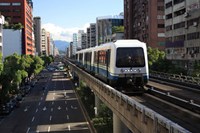 The Land Transport Authority (LTA) has awarded SMRT Trains the contract to operate the Thomson-East Coast Line (TEL) for an initial nine-year period. The TEL will open in stages starting from 2019.
Commenting on the decision to appoint SMRT Trains as the TEL operator, LTA Chief Executive Mr Ngien Hoon Ping said: "Both SMRT Trains and SBS Transit submitted good quality proposals befitting of our aspirations for the TEL. After much careful consideration, we have assessed that SMRT Trains will be able to offer a higher level of service, as it has committed to invest heavily in predictive maintenance and manpower training. Even with this commitment, it was able to offer a more competitive price."
Tender Evaluation
The TEL operator tender was called in February this year, and both existing rail operators, SBS Transit and SMRT Trains, were invited to participate. Tender submissions closed on 17 April 2017.
A two-envelope process was used for the tender evaluation, where quality was first evaluated before the price envelope was opened. This two-envelope process ensured a fair and independent evaluation of the quality of proposals before price was taken into consideration to ensure value-for-money.
SMRT Trains received a higher quality score. In particular, its proposal featured a commitment to invest heavily in predictive and reliability-centred maintenance to enhance reliability. SMRT Trains' proposal also included a strong staff development plan, including customer-oriented training, and tailored community engagement initiatives. SMRT Trains also undertook a set of contractual guarantees in the form of service fee deductions should key obligations not be met.
Notwithstanding its commitment, SMRT Trains offered a more competitive price, as the total service fee over 9 years ($1.7 billion) quoted by SMRT Trains was about 30% lower than that quoted by SBS Transit. Overall, SMRT Trains' proposal demonstrated more value-for-money.
A Pilot Incentives-Disincentives (ID) Framework
As part of the TEL operator contract, LTA will pilot an Incentives-Disincentives (ID) framework that directly ties the service fee received by the TEL operator to its performance in the key areas of service reliability, customer satisfaction and operations and maintenance processes. This means that the TEL operator will receive an incentive payment for outperformance, and conversely, a service fee deduction if it does not meet expectations. The TEL operator's performance will be regularly assessed through service reliability indicators, operational and maintenance audits, as well as customer satisfaction surveys covering various aspects of the commuter experience.
Outsourcing of TEL's Non-Fare Business
LTA will outsource the TEL non-fare business (i.e. the commercial spaces and advertising spaces associated with its stations and trains) via a separate tender. LTA will call this tender in 2018. This pilot initiative has the potential to enhance both the vibrancy of TEL stations and the financial sustainability of the TEL.
About TEL
The 43km TEL will add 31 new stations to the existing rail network, with seven interchange stations linking the TEL to all five existing MRT lines. Besides enhancing connectivity between the north, central and eastern parts of Singapore, the TEL will strengthen the resilience of our rail network by providing alternative travel routes for commuters on other lines.
Commuters can start enjoying the TEL in stages from 2019. When fully operational in 2024, the TEL is expected to serve approximately 500,000 commuters daily in the initial years, with the figure rising to about one million commuters in the longer term.
The TEL is Singapore's most complex rail project to date. Other than the multi-stage openings, the TEL will also interchange with the future Johor Bahru-Singapore Rapid Transit System Link on its northern end and feature a possible future connection to Changi Airport on its eastern end. Given the complexities, only the existing local rail operators, SBS Transit and SMRT Trains, which are familiar with the local operating context, were invited to participate in the TEL operator tender.
As the TEL will open in five stages between 2019 and 2024, fare revenue is expected to be more uncertain during the initial years of opening. To address this, LTA had earlier announced that the Government will collect fare revenue for the line (i.e. bear the revenue risk), whilst paying a service fee to a TEL operator to run the line for an initial period of nine years, with the possibility for two years' extension.
The Signapore Land Transport Authority
The Land Transport Authority (LTA) is responsible for planning, operating, and maintaining Singapore's land transport infrastructure and systems.
Our aim is to make public transport and other mobility forms come alive so travellers of all ages will look forward to their daily journeys. We want to make daily travel a way of life that is healthier, greener and more sustainable.