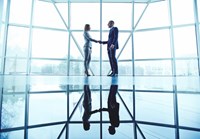 To leverage advances in technology and innovation to address current and future challenges in the land transport sector, the Land Transport Authority (LTA) will set up a new Transport Research Centre with the Singapore University of Technology and Design (SUTD).
The collaboration was announced today by LTA Chairman Mr Alan Chan at the second edition of LTA's Future Mobility Symposium. The TRC will be the fourth of such bodies established in partnership with our local universities, as part of efforts to build up a strong core of research and development capabilities within Singapore's land transport sector.
LTA-SUTD Transport Research Centre
The new LTA-SUTD TRC will foster collaborative research in key areas such as cybersecurity, automation and robotics, data analytics, behavioural studies and user-centric design in transport solutions.
In particular, the TRC will focus on issues pertinent to Singapore's context, such as our ageing population, land scarcity and rising travel demand for public transport. It will leverage SUTD's expertise in multi-disciplinary design and technology, transportation, cybersecurity and Internet of Things to provide new dimensions to transport research.
Achievements of Other Transport Research Centres
Following LTA's establishment of TRCs with Nanyang Technological University (NTU), National University of Singapore (NUS) and Singapore Institute of Technology (SIT) at the inaugural edition of the Future Mobility Symposium in November 2015, a total of 33 research projects on topics such as active mobility, autonomous and electric vehicles, and condition-based rail maintenance have been funded and carried out.
Some successes which have since been scaled up include:
A collaborative research project between LTA and the NUS TRC to develop an innovative noise mitigation solution for construction sites. These noise barriers are currently being used at the East Coast stretch of the Thomson-East Coast Rail Line, and will also be deployed at future construction sites.
A project by the NTU TRC on signage design, which takes into account the evolving user experience using a quantitative approach. This project has been recognised by the International Institute for Information Design Award and accorded the Bronze award (Research Category).
At the same time, LTA is also working with the SIT TRC on ongoing projects relating to condition monitoring and rail reliability. The Transport Systems and Systems Engineering Laboratories, launched in February this year, aim to enhance laboratory-based teaching and application-focused research in the areas of systems engineering, modelling and simulation.
Said LTA's Chief Innovation & Technology Officer Mr Lam Wee Shann: "As we build a commuter-centric public transport system, we need to constantly innovate and monitor technological trends to be at the forefront of the technological curve. By tapping on the research expertise of our higher-learning institutions, we can deepen our research capabilities, and accelerate the development of innovative solutions for the transport challenges of today as well as tomorrow's. We are pleased to partner SUTD, and continue the good work with the other universities, to co-create solutions that will set us in good stead to seize the opportunities that will arise in the transport sector in future."
SUTD's Director of Industry Development, Dr Wong Woon Kwong said: "At SUTD, we aim to create innovations that better the world by design. Singapore's transport sector is changing rapidly and we are pleased to partner LTA during these exciting times. In this collaboration with LTA, we will be applying our design expertise to transportation. Together, we will develop transport solutions that are centred on the user and ensure that these solutions are secure and trustworthy. We will also focus our research and development efforts on technologies that prepare us for Singapore's transportation needs for the future."
Themed "Paving the Way to Future Mobility", the Future Mobility Symposium serves as a platform to exchange ideas, best practices and insights into the latest technological innovations as Singapore gears up towards creating a future-ready transport system. It was attended by more than 400 industry professionals, academia and representatives from government agencies from Singapore and abroad.
About the Land Transport Authority
The Land Transport Authority (LTA) is a statutory board under the Ministry of Transport, which spearheads land transport developments in Singapore. As the agency responsible for planning, designing, building and maintaining Singapore's land transport infrastructure and systems, we aim to bring about a greener and more inclusive public transport system, complemented by convenient options to walk and cycle from their homes or to their destinations. We leverage technology to strengthen our rail and bus infrastructure and provide exciting options for future land transport.
About the Singapore University of Technology and Design
The Singapore University of Technology and Design (SUTD) is Singapore's fourth public university, and one of the first universities in the world to incorporate the art and science of design and technology into a multi-disciplinary curriculum. SUTD was established in collaboration with the Massachusetts Institute of Technology (MIT) and seeks to advance knowledge and nurture technically-grounded leaders and innovators to serve societal needs.
Also in collaboration with Zhejiang University and Singapore Management University, SUTD, a research-intensive university, is distinguished by its unique East and West academic programmes which incorporate elements of entrepreneurship, management and design thinking. Graduate opportunities include the SUTD Technology Entrepreneurship programme, the Master of Science in Security by Design, and various SUTD PhD programmes.