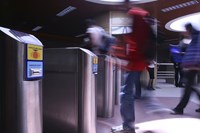 MyHSR Corporation Sdn Bhd (MyHSR Corp) of Malaysia and the Land Transport Authority of Singapore (LTA) are inviting companies specialising in Ticketing & Fare Collection (TFC) to share the latest ticketing technology and developments for the purposes of developing a robust TFC approach for the Kuala Lumpur – Singapore High Speed Rail (HSR) project. Companies with expertise in TFC are invited to attend the discussions to be held in Kuala Lumpur on 9 - 10 October 2017.
MyHSR Corp and LTA envisage a passenger-friendly ticketing system that incorporates the latest ticketing technology while ensuring seamless travel throughout the HSR ecosystem, taking into consideration the cross-border elements of the project as well as the separate operators for its International and Domestic Services.
Inputs from the discussions will be taken into consideration when MyHSR Corp and LTA structure the ticketing and fare collection ecosystem, including how the Assets Company (AssetsCo) and Operating Companies (OpCos) are involved in the ticketing process.
About the Kuala Lumpur-Singapore HSR
The Kuala Lumpur-Singapore HSR is a strategic project between the Governments of Malaysia and Singapore that aims to facilitate seamless travel between Kuala Lumpur and Singapore, enhance business linkages and bring the peoples of both countries closer together. The Governments of both countries signed a Bilateral Agreement on 13 December 2016, which captured the key points of agreement on the project, including the technical parameters, commercial model, customs, immigration and quarantine clearance, safety and security matters, regulatory structure and project management approach.
The Kuala Lumpur-Singapore HSR will open with eight stations: Bandar Malaysia, Bangi - Putrajaya, Seremban, Melaka, Muar, Batu Pahat and Iskandar Puteri stations in Malaysia and the Jurong East station in Singapore, with operations of the Express Service between Kuala Lumpur and Singapore targeted for commencement by 31 December 2026.
About MyHSR Corporation Sdn Bhd
MyHSR Corp is a company incorporated in 2015, wholly owned by the Minister of Finance Incorporated. As the Government of Malaysia's project delivery vehicle for the Kuala Lumpur-Singapore HSR project, MyHSR Corp is responsible for the development and implementation of the project.
About LTA
The Land Transport Authority (LTA) is a statutory board under the Ministry of Transport of Singapore. The HSR Group within LTA is responsible for the engineering design development and implementation of the project, working closely with relevant agencies in both Singapore and Malaysia.