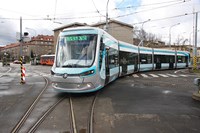 A unique battery-powered tram is about to appear in the Pilsen streets. It will be supplied to the Turkish city of Konya soon. It is a modern, fully low-floor tram ForCity Classic with a battery-powered engine, which makes it possible for tram vehicles to move independently of the traction mains. The range of the tram is at least 3 km. The tram will undergo a part of type tests in Pilsen.
"Our company was the first one in the Czech Republic to successfully test the unique "catenary-free" technology on the test track in the Škoda complex. Thus, we have proved that we can keep up with global competitors. Already the third battery-powered tram is undergoing a part of types tests on the rails of the transport company Škoda in Pilsen. The first two prototypes have already been delivered to the Turkish city of Konya, where they will undergo the remaining type tests. Other nine trams will be manufactured and delivered to Konya by the end of July this year, and all will eventually carry passengers in Konya," says Václav Petr, project manager of Škoda Transportation.
Škoda Transportation originally concluded a contract for 60 trams ForCity Classic with a transport company in Konya. All trams within this contract were delivered to Konya at the end of March this year. Last year, the local customer also ordered twelve more trams, this time battery-powered ones. All trams for Konya are low-floor, five-segment trams with three chassis and, moreover, they can be used as a tram set consisting of two vehicles in the planned about 4-km long Turkish tunnel. This means that they are designed to be operated as a light subway. The total value of the contract for 72 trams is 3.4 billion.
Škoda Transportation manufactured the record number of more than hundred trams last year and they plan to manufacture about a hundred of these modern vehicles as well this year. " We successfully managed to complete deliveries of ForCity Classic trams to the Hungarian city of Miskolc and Turkish city of Konya. This year, besides battery-powered trams, we would like to manufacture more than fifty vehicles ForCity Plus for the Slovak capital Bratislava, which will result in a significant modernisation of the vehicle fleet in Bratislava. Also, we should not forget more than thirty modern ForCity Alfa trams for the Prague public transport company, which will be, among others, newly equipped with air conditioning and Wi-Fi. Moreover, China has been gaining momentum with their licensed manufacturing of nine 27T trams for the local market," adds Tomáš Ignačák, CEO of Škoda Transportation
Škoda's "catenary-free" trams can currently go without power from the pantograph even in the toughest conditions in a normal city traffic for at least three kilometers at the speed of 30 km / h. This kind of power is mainly used, when a tram has to go to areas, where no trolley is installed, which means no huge investments in infrastructure are required, or it is used in historic parts of cities, as in the case of Konya, where the trolley line would disrupt the genius loci.
"Škoda has developed its own system for these purposes, which is based on the well-tried concept already used in Škoda trolleybuses. It is a result of the development by Czech engineers from the Škoda Group. The special traction battery containers are placed on the roof. Their composition and any additions can be adapted to the nature of the operation and to customer requirements. The range of the tram confirmed during internal testing was more than ten kilometers. It is possible to recharge the batteries continuously while driving, or to recharge them while standing under a powered trolley in a few minutes," adds Jaroslav Kulhánek, chief engineer of the project.
About Skoda Transportation
ŠKODA TRANSPORTATION is a traditional Czech company engaged in the field of transport engineering, with a strong position in both domestic and world markets. Establishment of ŠKODA TRANSPORTATION is connected with the specialisation restructuring and financial restructuring of the company resulting in acquisition of a strategic owner.
ŠKODA TRANSPORTATION and its subsidiaries are focused on the transport engineering industry, its key products include low-floor trams, electric locomotives, subway trains, suburban train units and trolleybuses, as well as traction motors or complete driving gears for transport systems. The ŠKODA TRANSPORTATION group of companies has more than four thousand employees. Škoda experts develop, produce and supply top products customised to the needs and wishes of its customers.