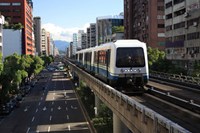 In recent weeks, Škoda Electric scored a major export success in the overseas market. The Plzeň-based company will participate in the production of new monorail vehicles for public transportation in the Brazilian city of Sao Paulo. Monorail public transport vehicles, which combine the favourable properties of the tram and metro, ride on special bridge structures situated above the regular city infrastructure.
"Škoda Electric will produce mechanical engines for monorails in Sao Paulo for over 100 million crowns. We will deliver the engines to the final vehicle manufacturer, Scomi Engineering, based in Malaysia," explains sales Manager of Propulsion & Controls East and Asia Škoda Electric, Jaromír Hájek. Škoda Plzeň concluded a cooperation contract for the joint development of vehicles for public transport and light rail vehicles with Scomi Engineering last year. "We see potential for further projects in Brazil, as well as in Turkey, India, Malaysia, or Thailand," adds Jaromír Hájek.
The vehicles with Škoda equipment will be used on the new line No. 17 in Sao Paulo. Škoda Electric will supply engines for a total of ten five-car monorail units, and each unit uses ten engines. The advantage of monorails is that they are not dependent on other public transport; they drive completely automatically without a driver, and they are increasingly gaining popularity in large cities. This is mainly due to the high transport capacity similar to the metro, but with significantly lower costs.
For Sao Paulo monorails, Škoda Electric has developed a completely new type of aluminum high-speed traction engine, whose advantages include its high efficiency and low weight. The delivery will also include gear units. "We will deliver the engines to the manufacturer in several stages, starting in 2017," says Jaromír Hájek.
Scomi Engineering Bhd is a leading supplier of public transport systems. It is currently involved in several monorail projects in Malaysia, Brazil and India, including the operation and maintenance of the first stage of a monorail track in Mumbai, India. In addition to the supply of monorail vehicles for line 17 in Sao Paulo, Scomi Engineering is also planning the construction of a factory for further monorail and other rail vehicle projects in Brazil.
About Skoda
Škoda Transportation is a traditional Czech company engaged in the field of transport engineering, with a strong position in both domestic and world markets. Establishment of Škoda Transportation is connected with the specialisation restructuring and financial restructuring of the company resulting in acquisition of a strategic owner.