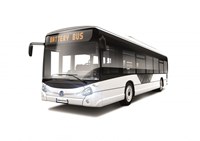 Škoda Electric presented its new Škoda E'City electric bus to the public for the first time at the CZECHBUS 2017 trade fair. The new electric was developed in collaboration with Iveco, which supplied the body.
"We have long been working to develop environmentally-friendly forms of urban public transport. The market has been changing rapidly in recent years. Electric buses are a major trend. They are quiet, emission-free and the charging infrastructure they require is not complicated. In just the last three years we have presented several new types, and our collaboration with IVECO is nothing new. In the past we have jointly implemented a wide range of trolleybus projects. We are now expanding our portfolio to include electric buses. The new E'City model is particularly interesting for its modular design, which enables the vehicle to be very quickly adapted to suit the needs of a particular customer. This is particularly true as regards various different operational modes, depending on charging facilities and the length of the route. The twelve-metre variant will soon be joined by a shorter ten-metre and a long eighteen-metre version," says Škoda Electric Commercial Director Radek Svoboda.
During the past year Škoda Electric has acquired several contracts to supply these cutting-edge vehicles. At the end of September this year Škoda Electric signed a contract for the supply of eleven new electric buses to České Budějovice. Since March this year ten buses of this type have been running in the public transport system in Třinec, North Moravia; in this case the electric buses are operated by Arriva Morava. This year Škoda Electric also supplied one pilot electric bus to ARRIVA Nové Zámky in Slovakia, and others will soon be running in Žilina.
"Interest in electric buses is growing. The benefits for the city offered by electro-mobility are clearly positive," adds Radek Svoboda.
About Skoda Transportation
Škoda Transportation is a traditional Czech company engaged in the field of transport engineering, with a strong position in both domestic and world markets. Establishment of Škoda Transportation is connected with the specialisation restructuring and financial restructuring of the company resulting in acquisition of a strategic owner.