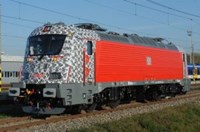 THE first of six Škoda Transportation type 109E electric locomotives ordered by German Rail (DB) subsidiary DB Regio in June 2013 for high-speed regional services in Bavaria has begun dynamic testing at the VUZ Velim test track in the Czech Republic.
DB Regio Oberbayern will use the 6.4MW locomotives, which are designated class 102 under the German numbering system, on Nuremberg - Munich regional express services as part of the 12-year Ringzug West/NBS concession, which starts in December. The trains will be formed of one locomotive and six Škoda double-deck coaches, operating at up to 200km/h on the Nuremberg – Ingolstadt high-speed line.
Last May the German Federal Railway Authority granted Škoda Transportation a Supplementary Authorisation to Place in Service (SAPS) covering both the class 102 and the similar Czech Railways (ČD) class 380.
About Škoda Transportation
Škoda Transportation is a traditional Czech company engaged in the field of transport engineering, with a strong position in both domestic and world markets. Establishment of Škoda Transportation is connected with the specialisation restructuring and financial restructuring of the company resulting in acquisition of a strategic owner.