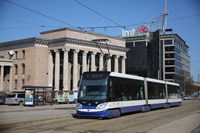 The Škoda Transportation Company has concluded a contract to deliver 15 pc. ForCity Alfa 15T RIGA 2 (three-section) tramcars and 5 pc. For City Alfa 15T RIGA 2A (four-section) tramcars for Latvian Riga. The new order amounts to 62,6 mil. EURO without funding. Škoda Transportation has secured an advantageous funding of this project through Latvian banks with a maturity of 15 years after the delivery of the first tramcar. There are twenty three-section and six four-section tramcars operated currently in the Latvian capital, which were delivered by Škoda to RP SIA Rigas satiksme - the Riga Public Transport Company – in the last years.
"Conclusion of this contract confirms that the quality of our products is high and that our existing customers are satisfied with them. This is supported by other 20 vehicles for Riga, by an option for thirty tramcars in Bratislava, which has come in force, as well as by a recent order for twenty new tramcars for Brno. Czech tramcars aroused great interest mainly abroad, which is demonstrated by more than a hundred of tramcars from the ForCity family which we exported for example to Hungarian Miskolc or Turkish Konya in the last years. The first FoCity Artic tramcar with our logo was put into operation several months ago in Finish Helsinki," says Tomáš Ignačák, Director General of Škoda Transportation
"The public transport fleet in the Latvian capital includes about 190 tramcars which are operated on nine lines around the town. Most of them were produced in the former Czechoslovakia, and therefore we are very pleased that we can successfully continue this tradition. Nowadays, Škoda Electric, our subsidiary, supplies new trolleybuses within a frame contract for up to 125 pieces of these environment-friendly vehicles to Riga," adds Vladislav Kozák, Sales Area Director Škoda Transportation.
The tramcars for Riga are 100% low-floor with a gauge of 1 524 mm (i.e. wider than in Prague) and fully air-conditioned in the area for passengers. The external design is in blue and white, which is typical for the Riga Public Transport Company. The cars have an optimized drive which corresponds to the flat terrain in the towns, a lift allowing to load a wheelchair from the road, a passenger-counting system, an automatic sale device for several types of tickets, a modern information system for passengers etc. The tramcars are made of high-quality materials because one of the customer´s requirements was to operate them with temperatures between +40°C and -40°C.
The three-section tramcar can transport 258 standing and 60 seated passengers and the longer version with four sections can transport 353 standing and 79 seated passengers. All the tramcars will be supplied until the end of September 2017.
About Škoda Transportation
Škoda Transportation is a traditional Czech company engaged in the field of transport engineering, with a strong position in both domestic and world markets. Establishment of Škoda Transportation is connected with the specialisation restructuring and financial restructuring of the company resulting in acquisition of a strategic owner.