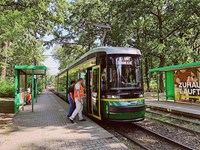 The subsidiary of Škoda Transportation Group, Finnish company Škoda Transtech, has sold two Artic pre-series vehicles to German Schöneicher-Rüdersdorfer Strassenbahn GmbH (SRS).
The unique deal was finalized today in Schöneiche bei Berlin surrounded by representatives of both companies. The Škoda ForCity Smart Artic vehicles are also operating for the first time in passenger traffic after receiving homologation in Germany. These are the first Škoda trams that received homologation in Germany.
The sale of two ForCity Smart Artic pre-series vehicles was established in cooperation with Helsinki City Transport (HKL) and thanks to the support of Voith Digital Solutions Austria GmbH & Co KG following a two-month trial period.
"I am happy that in addition to Chemnitz and Rhein-Neckar-Verkehr, Schöneiche is the third city where trams from Škoda Transportation will be in operation. This is Škoda's first tram to receive homologation in Germany according to BoStrab. I would like to thank the teams of Škoda Transtech and Schöneiche's SRS for their efforts and this achievement", adds Zdeněk Majer, Vice president of Škoda Transportation Group and Chairman of Škoda Transtech.
"We are very happy on behalf of the customers of SRS in Schöneiche to hand over this modern, comfortable and silent Smart Artic tram to be part of their everyday life" adds Lasse Orre, Managing Director of Škoda Transtech.
The ForCity Smart Artic Helsinki tram is based on an original idea of Helsinki City Transport (HKL) and has been developed in collaboration between HKL and Škoda Transtech, which is a Finnish subsidiary of the Škoda Transportation Group. Two pre-series ForCity Smart Artic trams were delivered to Helsinki for testing in 2013. Since 2016 the series vehicles have been delivered to Helsinki every three weeks. There are currently 55 trams in passenger traffic. HKL has purchased a total of 70 of these ForCity Smart Artic trams.
About

Škoda Transportation

Škoda Transportation, a leading European manufacturer of vehicles for city and railway transport, is a dynamic and fast growing company with a vast tradition of production spanning more than 150 years. The field of transport engineering is still undergoing dynamic development at this company. This field has huge potential worldwide. Škoda is currently number one in the field of rail vehicles in Central Europe. Modern electric locomotives, metro units, low-floor tramways and other important components of rail vehicles are dispatched to both domestic and foreign customers from shops on the main premises in Plzeň.