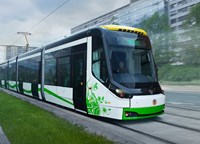 Škoda Transportation presented the first of fourteen new modern ForCity Classic trams in Chemnitz, Germany. This is a bidirectional, 100% low-floor vehicle with the body made of stainless steel. The total value of this contract is close to 950 million CZK.
"The tram we are presenting to our customer today has many significant innovations and is designed in the spirit of the future of tram transportation. This first vehicle initiates several months of challenging type tests directly in Chemnitz. The first passengers will be able to use this tram during a trial run in the spring of next year. The entire fleet will be delivered to Germany by the summer of 2019. This new tram from Škoda Transportation is the great result of the work of our salesmen, technicians, designers and others, to whom we are very grateful," says Petr Brzezina, Chairman of the Board and Chief Executive Officer of the Škoda Transportation group.
The Chemnitz transportation company (CVAG) will receive modern, low-floor vehicles meeting the latest German requirements for fully barrier-free access. Passengers can therefore look forward to comfortable, spacious vehicles with two large multifunctional spaces inside for up to four wheelchairs or baby prams, or 4 to 6 bicycles.
"Back in 2012 we were able to carry passengers in Chemnitz in a test run in our Prague ForCity Alfa tram. The operation was evaluated as very successful, and it was the basis for our later successful offer. In 2016 we won a tender for the supply of these fourteen trams in tough competition. I am happy now to present to the public a tram full of innovations, which includes a 100% low floor without ramps and a gearless drive with a permanent magnet motor combined with air suspension. The delivery of trams for Chemnitz is the second reference of the Škoda Transportation group in Germany; it consolidates our position in Western Europe and enables us to gather the necessary experience and references for further tenders," adds Zdeněk Majer, Vice President of Sales of the Škoda Transportation group.
The vehicles have many significant innovations. The tram is equipped with air conditioning in the driver's compartment as well as in the passenger compartment. The vehicle also has an easy to understand information system and a new sophisticated audio system for the visually impaired. The tram is 31.4 m long and 2.65 m wide. The total passenger capacity is up to 281 people, with 64 seats.
"The maximum speed of the tram is 80 km/h, however, for the operation in Chemnitz, Germany, this speed is limited to 60 km/h. Excellent driving performance even in bad weather is ensured by 100% adhesion (12 wheels = 12 motors without a gearbox). The tram's body is made of stainless steel and designed as an LRV (suburban vehicles). The vehicles also have a new generation of electric drive also produced in Škoda," describes the vehicle's technical parameters Jaroslav Kulhánek, Chief Designer of Škoda Transportation.
Škoda Transportation has been successful in the German market in recent years. This June, the company won a tender for the supply of modern trams for transport company Rhein-Neckar-Verkehr (rnv). A total of eighty trams in the basic delivery will be operated on lines between Mannheim, Ludwigshafen and Heidelberg. The contract also includes an option for another 34 vehicles. The first vehicles will be put into operation in early 2021. The total value of the contract is several billion crowns. Škoda Transportation has also manufactured six modern, high-capacity double-decker trains, including six locomotives, for German operator Deutsche Bahn Regio. These push-pull trains are designed for operation on the most important Bavarian tracks between Nuremberg - Ingolstadt - Munich. The new trains will start replacing the old InterCity trains next year in spring. The full launch of the entire fleet of new trains is expected in June 2019.
About Skoda Transportation

Škoda Transportation, a leading European manufacturer of vehicles for city and railway transport, is a dynamic and fast growing company with a vast tradition of production spanning more than 150 years. The field of transport engineering is still undergoing dynamic development at this company. This field has huge potential worldwide. Škoda is currently number one in the field of rail vehicles in Central Europe. Modern electric locomotives, metro units, low-floor tramways and other important components of rail vehicles are dispatched to both domestic and foreign customers from shops on the main premises in Plzeň.