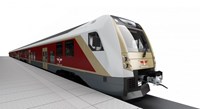 Škoda Vagonka, a member of the Škoda Transportation group, was confirmed as the winner of the contract for the supply of electric trains for the Latvian state railways (Pasažieru Vilciens). The order is for thirty-two modern, single-deck trains for suburban transport, their maintenance, spare parts supply and training. The value of this contract is around 240 million EUR.
"We are very pleased that Škoda Vagonka was announced the winner of this important contract that it signed with Pasažieru Vilciens. It was demostrated once more that our company has offered the economically and technically best solution for new modern trains. Our units are already operating in Czech Republic, Lithuania, Ukraine and Slovakia, and now passengers in Latvia can also look forward to them, "says Martin Bednarz, Chairman of Škoda Vagonka.
Škoda Vagonka best fulfilled the terms of the tender and offered the best price for the operation of the new modern trains for 35 years. This included the price of the electric trains themselves, as well as the cost of maintenance, energy consumption, etc. for their entire period of operation. Škoda was also the only company to offer dual system trains, which is a significant advantage due to the ongoing electrification of tracks in Latvia. The new trains will therefore be able to operate along the entire track, especially on tracks from Riga to Aizkraukle, Tukums, Skulte and Jelgava.
In addition to supplying the trains, Škoda Vagonka also wants to work with local companies to commission the trains and provide subsequent service and maintenance throughout the vehicle's life cycle, which is at least 35 to 40 years. The trains should be supplied gradually in the years 2022-2023.
New electric trains from Škoda Vagonka will be designed for suburban transport for operation on lines with a 1520 mm gauge and supply voltage of 3 kV, with the possibility of future conversion to 25 kV. Vehicles must withstand climatic conditions ranging from -40 ° C to + 40 ° C. Passenger capacity will be at least 400 seated passengers and up to 450 standing passengers. The maximum speed will be 160 km/h.
Škoda Vagonka has many years of experience in manufacturing passenger transport trains. Its trains operate every day in many European countries. Over the past 15 years, the Škoda Transportation group has supplied around 150 electric trains for suburban, regional and interregional transport for its customers. The Škoda Transportation group develops and manufactures all key train components, including electric traction equipment, chassis and vehicle control systems. The Škoda Transportation group uses state-of-the-art technology to reduce electricity consumption and save costs in production.
About

Škoda Transportation

Škoda Transportation, a leading European manufacturer of vehicles for city and railway transport, is a dynamic and fast growing company with a vast tradition of production spanning more than 150 years. The field of transport engineering is still undergoing dynamic development at this company. This field has huge potential worldwide. Škoda is currently number one in the field of rail vehicles in Central Europe. Modern electric locomotives, metro units, low-floor tramways and other important components of rail vehicles are dispatched to both domestic and foreign customers from shops on the main premises in Plzeň.