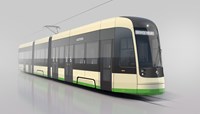 The Škoda Transportation group will be the supplier of new low-floor trams for the German federal state of Brandenburg. The trams were ordered jointly by the cities of Frankfurt an der Oder, Brandenburg an der Havel and Cottbus. The traditional Czech brand won the pan-European tender, which was unique in that it was announced jointly by three transport companies. Škoda will supply a total of 24 vehicles with an option for another 21. The total worth of the contract is almost 3 billion crowns (110 milion euros).
"We have long believed that the Western European market, led by Germany, is a very important market, and our strategy of focusing on these markets is proving to be a good strategy. We are very pleased with the long-term and regular success of our trams on the German market. With this order we have started the second hundred of ordered modern, comfortable trams from Škoda factories, which will offer ecological transport in nine German cities," says Petr Brzezina, Chairman of the Board of Directors and President of the Škoda Transportation group, describing their success.
"It has been seven years since we made a strategic decision and began to build a growth strategy in the German market by establishing a subsidiary. This is one of the reasons why we won the unique tender for the supply of trams for three cities, which was the first time in Germany. The customer will get the latest addition from the Škoda ForCity Plus family, which is a partially low-floor, unidirectional tram with three sections, two radial drive bogies and one regular non-radial bogie. The new order underlines the purpose of our long-term investments in developing and improving the level of our trams, making them suitable for modern transport throughout Europe," says Zdeněk Majer, Member of the Board of Directors and Senior Vice President of Sales of Škoda Transportation.
The new Škoda ForCity Plus vehicles will replace the existing high-floor trams, which are nearing the end of their service life in the mentioned cities. The vehicles will be delivered in two widths, because despite the large number of identical requirements and conditions, there are also a number of individual requirements of each city. Thirteen of the 24 ordered vehicles will travel to Frankfurt, four and perhaps eight more from the option will go to Branibor, and the remaining seven plus thirteen from the option were ordered by Cottbus.
The new trams will increase the attractiveness of public transport in all three cities. The Škoda ForCity Plus trams will be low-floor and are therefore also ideal for people with reduced mobility. The new vehicles will offer all elements of comfort: air conditioning, easy boarding, multifunctional spaces for prams, bicycles, etc. Of course, aspects of the environment and economic efficiency are also important, and the Škoda group's offer meets the expectations of the federal state of Brandenburg with its approach.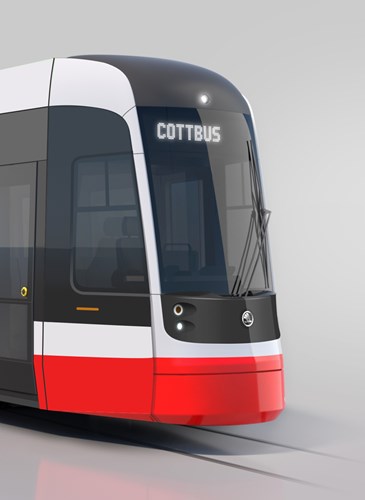 This is the first tender in which the contracting authorities requested technically identical vehicles for three significantly different cities. "The winner of the tender won thanks to its modern vehicle concept and the implementation of basic low-floor, space utilization and energy efficiency requirements, as well as its modern, timeless design," said Christian Utuk, CEO of Frankfurt transport company SVF.
"Without cooperation with Cottbus and Frankfurt and without state support, we would not be able to renew our fleet of trams. Today is therefore a significant milestone for the safety of tram transport in our city and its electrical and reliable future," says CEO of Brandenburg transport company VBBR, Jörg Vogler.
"Cottbus is at the beginning of very dynamic development in which we face the task of shaping structural change in our region. We are convinced that with a strong tram we will provide quality public transport for everyone for several decades to come," adds Ralf Thalmann, CEO of CVBB from Cottbus.
For the Škoda Transportation group, this means another success in Brandenburg, where low-floor trams are already operating in Schöneiche-Rüdersdorf. In addition, 14 Škoda ForCity Classic trams are in operation in (Chemnitz), and a contract for ForCity Smart low-floor trams for Mannheim, Heidelberg, Ludwigshafen and Bonn is currently ongoing.
Škoda ForCity Plus trams
These are modern unidirectional, three-section, 70% low-floor vehicles with two radial and one non-radial bogie. Passengers can look forward to comfortable, air-conditioned, spacious and barrier-free vehicles, in the interior of which there are multifunctional spaces for wheelchairs, prams or bicycles. The new trams will have an easy-to-understand information system with several screens and panels. The tram will also be equipped with a camera system for a better overview of the driver and increased traffic safety. The transport company will appreciate the low operating costs of the product from the Škoda ForCity Plus platform.
About Škoda Transportation:

Škoda Transportation, a leading European manufacturer of vehicles for city and railway transport, is a dynamic and fast growing company with a vast tradition of production spanning more than 150 years. The field of transport engineering is still undergoing dynamic development at this company. This field has huge potential worldwide. Škoda is currently number one in the field of rail vehicles in Central Europe. Modern electric locomotives, metro units, low-floor tramways and other important components of rail vehicles are dispatched to both domestic and foreign customers from shops on the main premises in Plzeň.