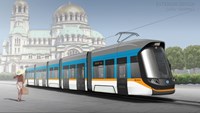 Škoda Transportation has won a contract for the supply of thirteen modern trams for Sofia. The capital of Bulgaria will receive ForCity Classic trams, which are already operating in Miskolc, Hungary, and Konya, Turkey. The contract is worth approximately 610 million crowns.
"The new, highly comfortable vehicles for Sofia are opening up new doors to this ever-evolving market, to which we have yet to deliver our trams. Additionally, after Prague, Bratislava, Riga and Helsinki, it is the fifth capital city of an EU country where Škoda vehicles are operating. Thanks to this, passengers will be able to travel in our trams in almost one fifth of EU's metropolises, and I think this is a reason to be proud of the Škoda brand and the entire Czech industry," says Tomáš Ignačák, Chairman of the Škoda Transportation Board of Directors.
In the competition, Škoda won over the Polish company Pesa, which has delivered several dozens of vehicles to Sofia in the past. The price includes thirteen trams, as well as the supply of spare parts and training of staff at the local transport company. The Sofia transport company will use European grants for the purchase.
"The new ForCity Classic trams for Sofia are designed with the same concept as those manufactured for Eskişehir, Turkey. Among other things, they differ in the track gauge, which is 1009 mm in Sofia. The vehicles are fully air-conditioned and 100% low-floor. At a capacity of 5 persons/m2, one tram can accommodate almost 200 people. The maximum speed of the trams is 70 km/h," says Olesea Lachi, Sales Area Manager of Škoda Transportation, and she adds: "The trams for Sofia can be operated with a track gauge of 1009 mm, as well as a standard track gauge of 1435 mm, for which Škoda Transportation is prepared to produce a similar tram, if the customer is interested."
Škoda Electric, a subsidiary of Škoda Transportation, has delivered fifty low-floor articulated Škoda 27 Tr vehicles worth 700 million crowns in recent years. Moreover, since 2010, thirty more 26 Tr trolleybuses are operating in Sofia to the satisfaction of the carrier and the passengers. New Czech trolleybuses can also be seen in other Bulgarian cities - Burgas, Varna, Stara Zagora and Pleven. Škoda has delivered a total of over 500 trolleybuses to Bulgaria in the past.
About Skoda Transportation
Škoda Transportation is a traditional Czech company engaged in the field of transport engineering, with a strong position in both domestic and world markets. Establishment of Škoda Transportation is connected with the specialisation restructuring and financial restructuring of the company resulting in acquisition of a strategic owner.