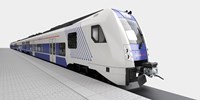 Bavarian railway company Bayerische Eisenbahngesellschaft (BEG) confirmed that National Express Rail should become the winning operator for suburban transport in Nuremberg. This would be the biggest Czech contract in Western Europe. The fight for contracts is very hard and unsuccessful candidates are likely to appeal repeatedly against BEG's decision.
"Public contracts undergo very complicated legal battles in which companies do their best to win. I am happy that it is a Czech company with purely Czech know-how that is to become the supplier for the winner of the tender, National Express Rail, which has been repeatedly confirmed as the winner. For us, this is a breakthrough contract and good news not only for Škoda but for the whole Czech industry," says Tomáš Ignačák, CEO of Škoda Transportation.
In February 2015, Bavarian railway company BEG announced that British company National Express Rail would probably be the winner of the tender for suburban transport (S-Bahn) in the Bavarian city of Nuremberg in the period of 2018 – 2030. If National Express Rail wins the tender, Škoda Transportation will be the final supplier of 39 single-deck electric units.
Another bidder, German Deutsche Bahn (DB), filed an appeal against BEG's decision in February 2015 at the South Bavarian Chamber for Public Tenders (which is similar to the Czech Antimonopoly Office). The Chamber decided that procedural misconduct had occurred during the tender. The winning bidder, National Express Rail, filed an appeal against the Chamber's decision at the Federal Court of Higher Instance. In September 2015, the court denied all DB's claims, but BEG had to verify National Express Rail's financial situation repeatedly. National Express Rail fulfilled all conditions and, at present, BEG has repeatedly confirmed that the British operator is the winner. This decision, however, is not legally binding and unsuccessful bidders can still file appeals until 3 January 2016.
"This would be an enormous contract for our company, not only financially, but also in terms of the production aspects. The contract is also lucrative due to the fact that it is the first S-Bahn railway that would not be operated by DB, which has an otherwise majority position on the market. I am afraid that BEG's decision will be repeatedly reviewed by the Chamber for Public Tenders in Munich and that there is no option other than to wait whilst keeping in mind that Škoda submitted a high-quality and competitive bid," says Zdeněk Majer, vice president for Sales at Škoda Transportation.
Škoda Transportation should supply 39 RegioPanter five-car single-deck electric units for somewhere in the vicinity of ten billion Czech crowns. The trains would operate on suburban railways in the Bavarian city of Nuremberg.
Škoda Transportation's current main focus is western markets. In August of this year, Škoda Transportation Group purchased a controlling interest in Finnish company Transtech, the sole Scandinavian manufacturer of railway and municipal rail cars with a yearly turnover of several billion. This acquisition will further strengthen the company's position, in particular in Western Europe and Scandinavia.
About Škoda Transportation
Škoda Transportation is a traditional Czech company engaged in the field of transport engineering, with a strong position in both domestic and world markets. Establishment of Škoda Transportation is connected with the specialisation restructuring and financial restructuring of the company resulting in acquisition of a strategic owner.
Škoda Transportation and its subsidiaries are focused on the transport engineering industry, its key products include low-floor trams, electric locomotives, subway trains, suburban train units and trolleybuses, as well as traction motors or complete driving gears for transport systems. The Škoda Transportation group of companies has more than five thousand employees. Škoda experts develop, produce and supply top products customised to the needs and wishes of its customers.