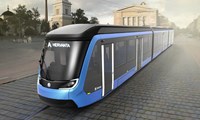 Transtech Oy, a subsidiary company of Skoda Transportation, was selected as the supplier for the newly built tram track in Tampere. The third largest city in Finland receive in the first phase fifteen to twenty modern tram ForCity Smart Artic. The offer also includes a ten-year full service of the vehicles and an option for up to an additional 46 trams with a possible extension of vehicle maintenance by up to thirty years.
"We are very pleased that we will deliver our modern vehicles from family ForCity to another foreign city. This year, we received orders for trams in german Chemnitz, turkish Eskişehir and Riga in Latvia. Winning the tender for trams in Finland is proof that last year's investment by acquiringa controlling stake in the Finnish company Transtech can be evaluated positively. Škoda Transportation is successfully continuing its strategy of establishing itself in the western markets, among which belongs also demanding Scandinavian market,"says Zdeněk Majer, Vice president of Škoda Transportation Group and Chairman of Transtech Oy.
"The vehicle for Tampere has know-how that we have over several years built in the development of vehicles for the capital Helsinki. The decision of the town Tampere pleases us and confirms that we have chosen a modern, yet proven technical solutions combined with attractive commercial terms. In the tender, we have succeeded in the tough competition of established manufacturers of rolling stock. The new trams will be manufactured at the Transtech company plant in Finland. The final signing of the contract is expected only after the approval of the city council of Tampere, which meets Oct. 24, 2016," says Matti Haapakangas, Deputy CEO of Transtech Oy. The contract value will depend on the final quantity of these vehicles ranges between 3,2 to 3,8 mil. EUR per tram.
Several modern trams ForCity Smart Artic runs in Helsinki, the capital city of Finland. These trams are also manufactured by Transtech. Helsinki City Transport Company ordered from Transtech forty of these low floor vehicles. The first thirteen trams are currently in operation in Helsinki.
Transtech company is the largest manufacturer of rail vehicles in Finland. Company was founded in 1985. Its main products include double-deck electric cars (operated as pushpull sets), trams and engineering products. It currently employs approximately 500 people. The company key contract is supply of double-decker and pressure-tight carriages for VR Group Limited (Finnish Railways), which are designed for speed of 200 km / h.
About Skoda Transportation
Škoda Transportation is a traditional Czech company engaged in the field of transport engineering, with a strong position in both domestic and world markets. Establishment of Škoda Transportation is connected with the specialisation restructuring and financial restructuring of the company resulting in acquisition of a strategic owner.