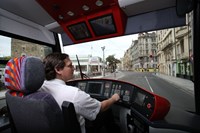 The first serial new modern tramcar Škoda Artic for the City of Helsinki was rolled out at the Otanmäki Works of Transtech Ltd. Helsinki City Transport company ordered forty low floor trams from Transtech at 2011. A pre-series of two trams was delivered to Helsinki in 2013. This newest tram is the first tram with logo of ŠKODA after Škoda Transportation. This Czech company bought Transtech three months ago.

"The features and suitability of the new tram for Helsinki have been carefully and successfully tested in regular passenger traffic prior to the commencement of serial production almost 2 years. And now the first serial delivery tram rolled out the factory being also the first tram car produced under Škoda brand in Finland. Actual serial deliveries to Helsinki start in the beginning of 2016 and all 40 ordered Artic trams will be delivered by May 2018," says Matti Haapakangas, CEO of Transtech.
The demanding conditions of Helsinki have been taken into account in the construction of Artic tram. Its construction includes freely pivoting bogies which are able to communicate the steep curves of the tram network of Helsinki, and its surface materials have been selected bearing in mind ease of maintenance and climatic conditions of Helsinki. The car has a 100 % low-floor design with 74 fixed and 14 folding seats. The car offers easy wheelchair or pram access.
"Acquisition of Transtech was a very good step for our company. Škoda Transportation become a key player in the field of railway and urban rail vehicles on the Finnish and Scandinavian market as confirmed by tramcars Škoda Artic for Helsinki. I also have to commend quality of products from Finnish company which are operating in challenging climatic conditions, " adds Zdeněk Majer, Vice-president Škoda Transportation and Chairman of the Board of Transtech.
About Škoda Transportation
Škoda Transportation is a traditional Czech company engaged in the field of transport engineering, with a strong position in both domestic and world markets. Establishment of Škoda Transportation is connected with the specialisation restructuring and financial restructuring of the company resulting in acquisition of a strategic owner.