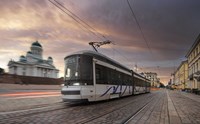 Transtech Oy, a subsidiary of Škoda Transportation, will supply ten ForCity Smart Artic trams for the Finnish City of Helsinki. Previously Helsinki City Transport has ordered sixty same ForCity Smart Artic trams. This delivery is worth 30 million EUR. In recent years, Helsinki has ordered a total of 99 trams worth more than 300 million EUR.
"I am very proud that HKL Helsinki is satisfied with the Škoda´s trams and the local transport company is ordering ten more vehicles. ForCity Smart Artic trams will be also delivered to another Finnish city – Tampere – and moreover, there are a few hundreds of our modern double-deck coaches used in all over Finland. We have been really successful on this market in the last years. Transtech has fully incorporated into Škoda Transportation group with the sales of about 120 million EUR, "says Zdeněk Majer, Vice President of Škoda Transportation and Chairman of Transtech.

"The future growth of the city of Helsinki is very much based on increasing tram transportation. Helsinki City Transport (HKL) and the citizens in Helsinki have been satisfied with the experiences of ForCity Smart Artic trams. It is therefore easy to make this decision to increase our Artic fleet,"says Ville Lehmuskoski, CEO of Helsinki City Transport (HKL).
There are currently 48 ForCity Smart Artic trams operating in Helsinki. The first Artic trams have been in operation in Helsinki since 2013.
"According to our customer, Helsinki City Transportation, the popularity of the trams is increasing among the passengers and Helsinki City is responding to that by exercising an option. In close co-operation with Helsinki City Transportation we have developed a tram which is reliable and energy efficient and has proven to be the right choice. We believe that it will be also a success in the international market," says Lasse Orre, CEO of Transtech Oy.
The one-directional three-part ForCity Smart Artic Helsinki tram has a gauge of 1 000 mm, it is a fully low-floor tram and it is 27,4 m long. The vehicle also offers barrier-free access for wheelchair users and prams. The all-wheel drive and robust chassis and axle design enables trouble-free operation in challenging climatic conditions.
Transtech is the largest manufacturer of rolling stock in Nordic countries. The company was founded in 1985. Its main products include double-deck passenger coaches (operated as PushPull trains), trams and engineering products. It currently employs approximately 700 people. In addition to trams, the company's key contracts include the delivery of double-deck pressure-tight coaches for state-owned VR Group (Finnish railways), which are designed for a speed of 200 km/hr.
About Škoda Transportation




Škoda Transportation, a leading European manufacturer of vehicles for city and railway transport, is a dynamic and fast growing company with a vast tradition of production spanning more than 150 years. The field of transport engineering is still undergoing dynamic development at this company. This field has huge potential worldwide. Škoda is currently number one in the field of rail vehicles in Central Europe. Modern electric locomotives, metro units, low-floor tramways and other important components of rail vehicles are dispatched to both domestic and foreign customers from shops on the main premises in Plzeň.