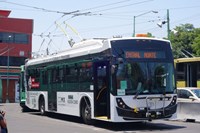 In the capital of Mexico, Mexico City, the metropolis with a population of twenty million inhabitants, a trolleybus that was produced with the help of Škoda Electric began to transport passengers in trial operation. The local transport company plans to modernize its fleet, and it chose a vehicle that is produced by Škoda Electric along with local bus manufacturer DINA.
"The trolleybus should run in trial operation in the Mexican capital during this year. The goal is for the customer to be able to verify the benefits of the new trolleybus design with modern electric equipment in real operation," says Škoda Electric Sales Manager Pavel Kuch. This trolleybus was built specifically for the needs of transport company STE (Sistema de Transporte Electrico) in Cuidad de Mexico.
Mexico's capital city has long been experiencing air pollution - which is also as a result of heavy traffic. The City Hall therefore plans to create a "zero emission" corridor on one of the most important traffic routes known as Eje Central. The aim is to use ecological vehicles for mass transportation - trolleybuses. The capital of Mexico has been successfully operating trolleybuses since 1954, and now it wants to enhance the traditional mode of transport with a fleet of new vehicles.
"Our company has supplied complete modern electrical equipment for the new trolleybus. The final assembly of the vehicles will take place with the support of Škoda specialists in the DINA Camiones factory near the capital city," adds Pavel Kuch. In addition to a modern check-in system, GPRS, WIFI and a CCTV system, the vehicle contains a new traction drive that allows it to independently travel up to 30 kilometers with a diesel generator, which can be used primarily for tunnel passes or power outages.
The Mexican market is not completely new territory to Škoda Electric. Two years ago, the Plzeň-based company and local manufacturer DINA supplied twenty-five new trolleybuses for the Mexican city of Guadalajara. "The first vehicles appeared in the streets of Guadalajara in early 2016. The local transport company and especially the passengers are very happy with them," says Pavel Kuch. Since January 2016, the new vehicles have been integrated into the city's integrated transport system – Linea 3, which transports more than 10 million passengers per day. The Guadalajara transport company replaced obsolete vehicles that were roughly 30 years old with the new trolleybuses. This contract is worth about 100 million crowns for Škoda.
About Skoda
Škoda Transportation is a traditional Czech company engaged in the field of transport engineering, with a strong position in both domestic and world markets. Establishment of Škoda Transportation is connected with the specialisation restructuring and financial restructuring of the company resulting in acquisition of a strategic owner.