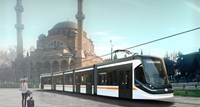 Škoda Transportation will deliver a unique battery-powered tram to the Turkish city of Eskişehir – this is a follow-up to the previous delivery of 72 vehicles to the Turkish city of Konya. The Pilsen-based company will produce a total of fourteen low-floor modern ForCity Classic trams for the transport company in Eskişehir. The order is worth more than 26 million Euros.
"We will deliver a new, supremely comfortable tram to our Turkish customer within nineteen months from signing the contract. The order for Eskişehir is another major export success for Škoda in recent times and confirms the superior quality of our vehicles," said Tomáš Ignačák, Chairman of the Board of Škoda Transportation.
The vehicles, manufactured by Škoda, will be equipped with powerful traction batteries – this will allow the transport company in Eskişehir to operate without the overhead catenary line on more than a kilometer segment which the city is planning to build. Generally, the battery drive of the tram will mostly be used in cases when the tram is required to follow routes where the electric trolley line has not been installed, for example, for aesthetic reasons in the historic centers of cities. The drive can also be used if there is a failure in the upper catenary lines so that the tram keeps moving smoothly in the regular flow of street traffic.
Turkish Eskişehir, which has undergone dynamic development in recent years, currently has roughly 700,000 inhabitants and lies in the west of the country on one of the main connecting lines between Ankara and Istanbul; it is one of Turkey's major cities. "The more than thirty-meter long, completely air-conditioned tram will offer space for up to 276 passengers. The trams have a unidirectional design and fit a gauge of 1000 mm. There will be no stairs inside the cars and getting on and off will be through four double-doors and two single-doors. The vehicles have an elegant design, which will go well with the local colors of Eskişehir," adds Olesea Lachi, Sales Area Manager in Škoda Transportation.
The order for Eskişehir, which Škoda won over local manufacturer Bozankaya A.S., builds on therecent crowning achievement in Turkey. Passengers have been getting around the city of Konya since 2015 in fully low-floor Škoda ForCity Classic trams. A part of the fleet in this city is also adapted for independent drive on catenary-free lines. Škoda Transportation delivered sixty modern low-floor trams to Konya along with another twelve trams with battery drives.
About Skoda Transportation
Škoda Transportation is a traditional Czech company engaged in the field of transport engineering, with a strong position in both domestic and world markets. Establishment of Škoda Transportation is connected with the specialisation restructuring and financial restructuring of the company resulting in acquisition of a strategic owner.