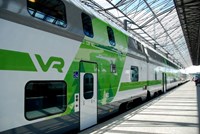 Transtech, Škoda Transportation's subsidiary in Finland, will supply a total of twenty new modern double-deck coaches to Finland. Finnish State Railways granted an option for twenty double-deck passenger cars based on a contract from 2015. The contract is worth over 50 million EUR.
"We are very pleased that the option has been used, and twenty state-of the-art double-coaches are going to be soon in use for the passangers in Finland. The first passenger car was deployed on the Finnish railways in June 1998, and today more than 270 of these vehicles are carrying passengers on all the main lines. Škoda Transportation Group has an increasingly strong voice in the demanding Scandinavian market. We are focusing on close cooperation with our customers in order to implement in our trains the demands and experience from operation. This recently concluded contract and orders, for low-floor trams for the operator HKL of Helsinki worth more than 150 million EUR, are confirming this as a valid strategy," says Zdeněk Majer, Vice President of Škoda Transportation and Chairman of Transtech.
The passenger cars are pressure-tight and have excellent thermal insulation, which makes them suitable for use in demanding Nordic conditions with temperatures dropping to -35 degrees Celsius. The aisles are also pressure-tight, making movement between wagons comfortable and safe. The cars comply with TSI, and their maximum speed is 200 km/hr. All cars have a strong aluminum structure that is designed according to valid safety standards, so that the deformation zones absorb the consequences of a collision in the event of an accident and the passenger compartment remains protected.
"Thanks to their comfort and reliability, the double-deck passenger coaches from Transtech have become very popular among travelers. The vehicles feature a spacious and bright interior with a wide range of services on both floors. The bottom floor at the platform level also makes it easy to board the cars for passengers with reduced mobility. The production of the new cars will begin next year, and we plan to deliver them in 2019. This project creates approximately 150 man-year workload for Transtech Oy. Additionally contract leads to remarkable employment effects to Finnish suppliers due to over 80% degree of domestic origin," adds Lasse Orre, CEO of Transtech Oy.
The Finnish State Railways will receive twenty Ed models, which are equipped with 113 passenger seats on both floors and in the end section. Transtech also offers two other types of passenger cars. The Eds model is designed specifically for families and passengers with reduced mobility, and the Edfs model has an extra section for the conductor and a dining room with a cooling device. Transtech has several other types of double-decker wagons in its portfolio. These are driving, restaurant and sleeping cars.
"Strong growth continues in domestic rail travel in Finland. This year, the number of journeys has already increased by almost 10 per cent and more than 20 per cent on many of the main routes. We make growth in rail traffic possible also in the future by investing significantly in additional capacity. The current rail infrastructure does not make it possible to increase the number of services during peak hours, but we can still increase the capacity of the existing trains," says Maisa Romanainen, Senior Vice President of Passenger Services at VR Group.
About Transtech
Transtech is the largest manufacturer of rolling stock in Scandinavia. The company was founded in 1985. Its main products include double-decker electric wagons (operated as PushPull trains), trams and engineering products. It currently employs more than 500 people.
About VR Group
VR Group is a versatile, environmentally friendly service company for travel, logistics, and infrastructure that operates responsibly. About 8,000 professionals work for the group. VR Group operates primarily in Finland, but it also has operations abroad, especially in Russia and Sweden.
About Skoda Transportation
Škoda Transportation is a traditional Czech company engaged in the field of transport engineering, with a strong position in both domestic and world markets. Establishment of Škoda Transportation is connected with the specialisation restructuring and financial restructuring of the company resulting in acquisition of a strategic owner.