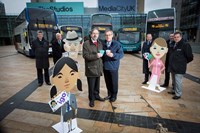 Millions of bus passengers in Greater Manchester will benefit from cheaper fares from today with the introduction of a new smart ticketing scheme that works across bus companies and the region.
The ground-­breaking scheme is one of the largest in the UK outside London and is the result of collaboration between more than 30 bus operators through industry body Greater Manchester Travelcards Ltd (GMTL), the organisation behind the System One brand, in partnership with Transport for Greater Manchester (TfGM).
From today, customers can purchase great value multi-­operator travel, which is stored on a smart card and can be used on buses across Greater Manchester. Fares will be cut by an average of 10% for the new electronic products compared to the equivalent existing printed products, saving customers up to £5 a week. Customers can buy adult and junior 1-­day, 7-­day and 28-­day products, providing unlimited bus travel across the Greater Manchester area.
The new product range, branded get me there, is an extension of the equivalent existing printed System One multi-­operator products. Customers will be able to load the new products onto widely available smart cards issued by bus operators, including StagecoachSmart or by TfGM, including igo passes for young people, other concessionary passes, and a get me there smart card. Passengers then touch in at smart readers when they board the bus to validate their travel.
The scheme has involved joint working between private and public sector organisations and represents a combined multi-­million pound investment by Greater Manchester's major bus operators and TfGM, in partnership with GMTL, to support the regional economy by making it cheaper and easier for people to travel by bus.
Today's announcement follows a pledge made last year by the country's major bus companies – which include Arriva, First and Stagecoach – to deliver multi-­operator smart ticketing to millions of bus customers across England during 2015. It also delivers on a commitment by TfGM to introduce the next stages of its get me there smart ticketing scheme for Greater Manchester before the end of the year.
Transport Minister Andrew Jones said: "Smart ticketing will transform everyday journeys in this great city, making travelling across transport modes easier and saving people money. We're committed to rolling out smart ticketing across the country through our Smart Cities Partnership, and it's great that Greater Manchester is leading the way."
Currently, System One printed tickets are the only 'multi-bus' option for bus passengers. More multi-­operator and multimodal products will be made available as part of get me there over time.
The city's major bus operators have invested heavily in the new scheme and have delivered the technology in partnership with GMTL and TfGM. GMTL, working with TfGM, has ensured that get me there travelcards can be used with any bus in the scheme whilst also allowing interoperability with individual operators' own smart cards. TfGM has funded the on-­board smart card readers for smaller operators so that customers can have seamless access to travel on Greater Manchester buses.
Trevor Roberts, Chairman of GMTL, said: "It has long been our aspiration and an integral part of our business development plans for some time to bring the flexibility and accessibility of smart travel to our System One customers who have enjoyed the benefit of multi operator multi-­modal travel for over 20 years. It is by working in a strong partnership with transport operators across the Greater Manchester area and with TfGM that we can now start to move our products across to smart card technology utilising the back office infrastructure of the three major operators and TfGM."
Councillor Andrew Fender, Chair of TfGM Committee said: "We want to make travel easier and more attractive in Greater Manchester and technology and smart ticketing is one of the ways we can help. We've worked hard with operators to ensure that get me there was built into their smart ticketing plans and I'm delighted that we've been able to bring on board even more operators.
"With eight of every ten public transport journeys made by bus and most Greater Manchester bus services part of this new scheme, today marks a good step forward on our smart journey with passengers."
Stagecoach Manchester Managing Director Christopher Bowles said: "This is great news for Manchester's bus users. Stagecoach is making an £11million investment across the country in new digital technology to make it easier for our customers to use the bus. Smart ticketing, better information and easier ways to buy travel are at the heart of our strategy. This announcement shows that, by working together, bus operators, local authorities and the Government can make buses even better for the many people who rely on them every day."
Teresa Broxton, Managing Director for First Manchester added, "The introduction of the rebranded get me there smart tickets will help make bus travel even more convenient for customers. We've worked together with other operators and our Manchester transport partners to invest in technology to improve accessibility for customers across the network."
Phil Cummins, area managing director for Arriva Manchester said: "Arriva's commitment towards innovating for the good of our customers has always been right at the heart of our business and we welcome the opportunity to partner with our peers in order to explore new technologies which will enhance the passenger experience. The launch of the get me there smart card scheme is another example of how collaboration can deliver greater choice and better services for customers, and make bus travel a more enticing, accessible method of transport."
About First Bus
First Bus is one of Britain's largest bus operators. We operate around a fifth of all local bus services outside London.
A fleet of some 6,400 buses carry approximately 1.6 million passengers every single day in a huge number of communities.
From as far North as Aberdeen to as far South as Cornwall, First's buses help our customers access employment, education, retail and leisure. ;Our buses connect communities and help create vibrant local economies.
Our customers are at the heart of everything we do at First Bus. We are committed to providing quality bus services that are punctual, reliable and offer good value for money.