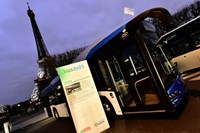 Today, Paris City Transport (Régie autonome des transports Parisiens, RATP) presented new Solaris Urbino 12 electric. Right after the official event, the quiet and clean Solaris battery bus left on Parisian streets to start its tests drives in regular passenger service. The vehicle will be used by RATP for the next two months. The project is closely linked to RATP's project to make its whole fleet emission-free by 2025.
The agreement between Solaris and RATP stipulates that the new Urbino 12 electric will be tested in regular passenger's service on lines 21 and 147 in the French metropolis. The Parisian operator's objective, supported by Greater Paris transport authority STIF, is to give up traditionally diesel powered engines and make the whole city fleet zero-emission by 2025. The new Solaris Urbino electric bus is an interesting proposal for RATP and may be helpful in achieving its goal.
"The cooperation with RATP, including the test rides of the new Urbino 12 electric, is undoubtedly a challenge. Our new battery bus will show its best side on the Parisian streets. The new Urbino is a vehicle fitted with plenty of innovative developments such as a third generation electric axle and a new, lighter bodyframe. Its pleasant and comfortable interior, not to mention its extraordinary design, will surely make a good impression," stated Dr. Andreas Strecker, CEO of Solaris Bus & Coach.
The Solaris electric bus that has arrived in Paris is based on the new Urbino construction which celebrated its world premiere in Hannover at IAA exhibition in September 2014. It is a completely new engineering design. Despite being lighter, it is more robust while being made from the same noncorrosive materials as before. The vehicle will be equipped with a 240 kWh battery and a plug-in charging system. Solaris in co-operation with Ekoenergetyka will provide the operator with external charging station with a power of 80 kW.
A further innovative solution is the use of the newest ZF AVE 130 drive axle, in which two independent electric motors are mounted close to the wheels. It brings down overall weight even further and at the same time increases the space inside the bus that can be configured freely. Along with the Medcom traction equipment, the axle ensures an exquisitely quiet drive as well as smooth acceleration and braking. All these features make the new Urbino perfect choice for urban environments, even with a high number of passengers on board.
There are 30 seats in the bus, including 16 pedestal-free seats. Energy-efficient LED lighting is used both inside the bus as well as for all exterior lamps. Drivers can find an ergonomic cab, with a higher seating position that improves interaction with boarding passengers. Excellent visibility is ensured by the widescreen, which is much bigger in comparison to previous Urbinos. The drivers' cab is more ergonomic thanks to the modern, intuitive touch-screen dashboard, now available across Solaris's range of buses and trams.
So far Solaris zero-emission buses are carrying passengers in Germany (Braunschweig, Hamburg, Dresden and Düsseldorf), Poland (Warsaw, Jaworzno, Ostrołęka, Inowrocław) and Sweden (Västerås). Soon Solaris battery buses will run in the streets of Barcelona. With their growing presence, quiet and clean Urbino electric buses are substantially improving the standard of living in European cities.
About Solaris Bus & Coach
Solaris Bus & Coach is a family company founded and owned by Solange and Krzysztof Olszewski. The company is a major European producer of city, intercity and special-purpose buses as well as low-floor trams. Since the start of production in 1996, over 12 000 vehicles have already left the factory in Bolechowo near Poznań. They are running in 29 countries.
The combination of the vision and experience of Solaris' owners with the enthusiasm of a young team resulted in perfect conditions to achieve strong successes.
Despite its young age, Solaris has become one of the trendsetting companies in its industry. For many years it has been the indisputable leader among the suppliers of city buses in Poland as well as one of the largest suppliers of buses in Germany.