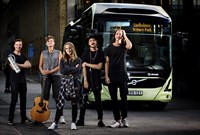 After one year of electric bus service on route 55 in Gothenburg, it is clear that the expectations have been surpassed by a wide margin. The buses and bus stops received a high rating by passengers and drivers alike, and the technology worked very dependably. Over the past year the service has carried about 1.2 million passengers. In time for the first anniversary of the electric bus route, global ICT provider Ericsson is now joining the ElectriCity partnership.
Traffic on route 55 in Gothenburg began in June 2015 and the green electric buses soon became a common sight on the urban scene. Today the route between Chalmers and Lindholmen carries an average of 100,000 passengers a month. Surveys conducted by the ElectriCity partners reveal that both passengers and drivers appreciate the new electric bus route and that the vehicles, charging infrastructure and bus stops more than meet the highest expectations.
According to Public Transport Authority Västtrafik, passengers are generally very satisfied with the service. The fact that the buses run on renewable electricity is regarded favourably, and the bus stops at Chalmersplatsen and Teknikgatan are rated very highly. About 80 per cent of passengers appreciate the free WiFi on board, and no less than 93 per cent feel that the low on-board noise level is a great benefit. Measurements carried out by Volvo confirm these perceptions and show considerable differences in noise between diesel and electric power, both inside and outside the buses, particularly at low speeds.
Surveys carried out by bus operator Keolis show that the bus drivers also feel the low noise level is one of the biggest advantages of electric power, both because it contributes to a better working environment and because it is appreciated by the passengers. The fact that the buses are equipped with zone management which automatically limits speed in certain areas is regarded as positive and boosts safety.
Route 55 is not only Gothenburg's first route serviced by electric buses, it is above all an arena for showcasing the latest technologies and for developing emerging solutions. That is why the programme is being studied very thoroughly. The latest vehicle and charging infrastructure statistics from Volvo, Keolis and Västtrafik show that the results are on a par with or have exceeded the targets for charging function, punctuality and service provision.
"These excellent results show that the technology for electrified bus operations is ripe for more broad-based introduction. Electric power offers new possibilities for cities to transition public transport in a sustainable direction, promoting safer traffic and a healthier environment with less noise and better air quality," says Niklas Gustafsson, Chief Sustainability Officer, Volvo Group.
The immense interest in route 55 is confirmed by visitor statistics from Business Region Göteborg. So far more than 100 delegations totalling almost 5500 participants from cities the world over have visited Gothenburg to see how the cooperative electromobility project and its traffic operation actually work in practice.
Just in time for the electric bus route's first anniversary, global ICT (information and communications technology) provider Ericsson is joining the ElectriCity partnership.
"The buses running on route 55 are already connected to our platform allowing developers controlled access to data to build smart applications," says Orvar Hurtig, Head of Industry & Society at Ericsson. "Now we're taking the next step as a partner in ElectriCity. It's an exciting project in which we, together with the other partners, will be able to develop and test sustainable transport solutions for smart cities – in real life."
About Volvo Buses
Volvo Buses is a leading manufacturer of buses and coaches. With R&D centres in Europe, Asia and the Americas we reinforce our global offers with local expertise and presence.
Throughout our entire organisation we focus on Volvo's core values: Quality, Safety and Care for the Environment and we express this in the brand promise Driving Quality of Life.
Our success in bringing hybrid technology and electric propulsion to the market is an evidence our leadership and competence in this field.
Transporting people means a certain responsibility in terms of safety and here Volvo has a solid reputation. New features and systems are continuously introduced and our R&D plan for safety technology stretches over decades.
In total we are more than 7,000 dedicated people, annually delivering more than 10,000 vehicles, all of them in the class over 12 tonnes. We are active all over the world and our service network includes more than 140 countries