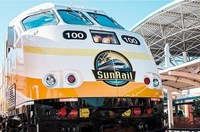 A collection of elected and government leaders signed a 10-foot-tall placard Monday signifying that $93 million in federal dollars soon will be spent in Osceola County expanding the SunRail commuter train as far south as Poinciana.
"Ridership will grow, spurring more demand," predicted Therese McMillan, the acting administrator of the Federal Transit Administration.
SunRail now stop just north of the Osceola line at Sand Lake Road, but construction should start in November on the four stations, plus new tracks for the 17-mile extension.
The new leg is supposed to be up and running by December 2017.
Monday's gathering, at the Kissimmee Amtrak station, was attended by more than 100 SunRail supporters. A SunRail train idled on the tracks nearby.
The grant had been awarded by the FTA in May and amounts to half the total cost of $186 million. The remainder comes from the state, Osceola and Orange counties.
The money does not affect the proposed northern expansion, which would take the train from DeBary to DeLand. SunRail needs $35 million more from the federal government for DeLand and is hoping for another grant.
SunRail expects about 2,000 riders per day to get on the train in the southern leg. The Osceola link is supposed to stops at the Meadow Woods community in south Orange, near the Tupperware business campus, downtown Kissimmee and Poinciana.
About SunRail
SunRail is a commuter rail system in the Greater Orlando, Florida area. Service began on May 1, 2014.Phase 1 comprises 31 miles (50 km) with 12 stations) along the former CSX Transportation "A" Line connecting Volusia County and Orange County through Downtown Orlando. The extensions proposed for Phase 2 would add a new northern termius at DeLand and four more stations southward, terminating at Poinciana in Osceola County. It is expected to be fully completed sometime in 2017. Formerly known as "Central Florida Commuter Rail", the SunRail system is financed by the state and Federal governments and the counties it serves. SunRail is Florida's second commuter rail system after Miami's Tri-Rail.
SunRail opened on May 1, 2014 with over 10,000 passengers riding the trains on opening day.Current paying ridership is approximately 3,200 riders per day.