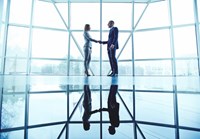 Swissport Group ("Swissport" or "the Group") is pleased to announce that the refinancing announced by the Group on 11 July 2017 is now effective.
The Group refinanced its €660 million Term Loan B ("TLB") by raising a new €460 million TLB and paid down the remaining €200 million balance with cash on hand, utilising a portion of the funds received by way of a €718 million equity injection from HNA Group in April 2017.
As part of the refinancing, the Group also completed an exchange offer in which over 90% of the Group's existing noteholders participated. Noteholders whose notes were not exchanged for new notes in the exchange offer will remain holders of the Group's existing notes through maturity, unless the Group exercises its option to redeem such notes prior to maturity.
The new €460 million TLB was raised by Swissport Financing S.à r.l. (the New Borrower) as part of the Group's desire to redefine its capital structure. A new distinct credit and covenant perimeter has been created that encompasses the entire existing business operations of the Group, the benefit being that it preserves the integrity of the collateral package for the benefit of investors.
The repayment of €200 million in gross debt leaves Swissport in a strong financial position, with sufficient liquidity to meet its obligations and the financial flexibility to pursue attractive growth opportunities.
About Swissport International
Swissport International Ltd. provides ground services for more than 230 million passengers and handles 4.3 million tonnes of cargo a year on behalf of some 835 client-companies in the aviation sector. With a workforce of more than 62,000 personnel, Swissport is active at more than 280 stations in 48 countries across five continents, and generates consolidated operating revenue of EUR 2.7 billion.