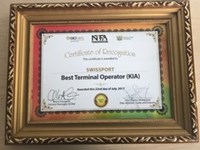 The award is the result of Swissport Ghana's performances and achievements in 2016 which focused on compliance, revenue generation, time to completion of document processing and actual release of documents as well as transaction volumes.
"Swissport Ghana is very proud of this achievement in this competitive category. To be honoured by the Ministry of Trade and the GCNet is a testament to our commitment in delivering efficient and state-of-the-art services for our valued customers. With our dedicated staff, a pool of industry experts, we will continue to deliver cargo services above expectations." said Christian Zweifel, CEO Swissport Ghana.
The NTFA is an annual event organised by the Ministry of Trade and Industry (MOTI), in partnership with the Ghana Community Network Service Limited (GCNet) and Ghana Revenue Authority, to reward excellence in the country's trade facilitation industry. The topic of this year's event was "deployment of e-applications for the efficient and paperless processing of trade and customs transactions".
About Swissport International
Swissport International Ltd. provides ground services for more than 230 million passengers and handles 4.3 million tonnes of cargo a year on behalf of some 835 client-companies in the aviation sector. With a workforce of more than 62,000 personnel, Swissport is active at more than 280 stations in 48 countries across five continents, and generates consolidated operating revenue of EUR 2.7 billion.