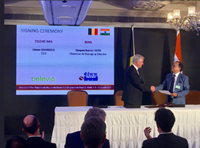 Lieven Danneels, CEO of Televic, was one of 84 CEOs on a Belgian state visit to India last week, during which Televic Rail and its joined venture signed contracts with BEML and Bombardier India to supply cutting-edge technology to the East-West Kolkata Metro and the Mumbai Suburban Railway.
Televic Rail will cooperate closely on both projects with local joint venture partner PT Communication Systems Limited (PTCS) from New Delhi to produce the technology locally.
East-West Kolkata Metro Contract
Train builder BEML has chosen Televic Rail to supply the passenger information system for the first underwater metro in Kolkata. For this spectacular project, a 520-metre twin tunnel was built under the Hooghly River, connecting the cities of Kolkata and Howrah. The 14 new train-sets, 6 coaches each, will be capable of carrying up to 2068 people.
Televic Rail will provide an innovative passenger information system with integrated CCTV surveillance. Fully IP-based, this includes public address and intercom, infotainment screens, passenger alarm panels and CCTV cameras with local recording and wayside monitoring.
Mumbai Suburban Train Services Contract
Bombardier has awarded PTCS the contract to supply train operator Central Railways with the passenger information system for twenty trains. Televic technology has been used for more than 11 years in the existing fleet of 200 trains, which carry nearly 6 million people in Mumbai every day.
Part of Televic's growth strategy
"These projects are very much part of our growth strategy for the rail and metro market in India", says CEO Lieven Danneels. "So we are excited to be working with BEML and Bombardier to deliver the innovative and technologically advanced solutions that they need."
About Televic Rail
For nearly 30 years, Televic Rail has been a reliable partner of train builders and operators in developing and producing Passenger Information Systems, on-board control systems and infotainment solutions for the railway industry.
Televic's vision for communication is based on four core values: Innovation, Flexibility, Sustainability and No Nonsense. Combining expertise and experience with a constant drive for innovation, Televic Rail is able to deliver project-focused, cutting-edge solutions providing reliable communications on board trains. Its focus on a close, lasting relationship with its customers allows for custom-made, high quality products and consistent, long-term support.