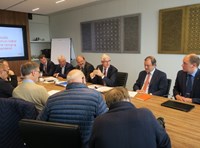 In 2018, Flanders will get a new manufacturing research center. The focus of this center will be entirely on mechanical engineering and mechatronics. For this project, the Flemish government will invest 15 million euros.
The new Flanders Make research center will help companies with technology, product development and digitization. Geert Bourgois, Minister-President of the Flemish government, firmly believes that it will boost the development of new products, new machines and new production methods: "We're at the dawn of the Fourth Industrial Revolution. The digitization expands in all directions. We have the ambition to be in the lead."
Companies of all sizes can benefit from the project. Televic is one of them: a company that makes communication technology for different niche markets. Lieven Danneels, CEO of Televic, is confident that the center underpins further growth: "This strategic research center will strengthen and expand the connection between the industry and academia. We expect that companies will invest in the rapid changing industry."
Flanders invests in R&D
For this project, the Flemish government will invest 15 million euros. The total research and development budget has risen sharply, far above the European average. In 2019, Flanders will invest half a billion euros more than in 2014. In addition to Flanders Make, the government supports other strategic research centers: imec-iMinds, the Flemish Institute for Biotechnology (VIB) and the Flemish Institute for Technological Research (VITO).
About Televic Rail
For nearly 30 years, Televic Rail has been a reliable partner of train builders and operators in developing and producing Passenger Information Systems, on-board control systems and infotainment solutions for the railway industry.
Televic's vision for communication is based on four core values: Innovation, Flexibility, Sustainability and No Nonsense. Combining expertise and experience with a constant drive for innovation, Televic Rail is able to deliver project-focused, cutting-edge solutions providing reliable communications on board trains. Its focus on a close, lasting relationship with its customers allows for custom-made, high quality products and consistent, long-term support.