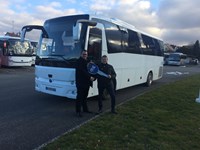 TEMSA buses continue to be praised by French transporters
TEMSA, the leading brand in Turkish bus market, continues to reflect its powerful trademark also for international markets. TEMSA, which exports to 66 countries, increases the number of bus deliveries in France, one of the markets in which TEMSA has great sales records. TEMSA, which delivered 179 buses to France in 2016, delivered 22 more buses to France in January 2017.
TEMSA aims that its vehicle park in France will exceed 5.000 buses
Kadri Özgüneş, International Sales and Marketing Director, noted that TEMSA's vehicle park in France will exceed 5.000 buses. "TEMSA buses continue to attract a great deal of interest from the transporters in France. In January 2017, TEMSA had a total of 22 sales units, which can be stated as an important sales record in French bus market. The sales units in January is the most important indicator that TEMSA can expand 179 sales record in France. TEMSA is on the way of exceeding 5 thousand vehicles in France. TEMSA continues to be one of the prouded brands of our country as in the past."said Kadri Özgüneş.
About TEMSA
TEMSA, one of Turkey's leading automotive companies, manufactures and distributes buses and coaches under its own brand in domestic and international markets. TEMSA's manufacturing facility in Adana has a single-shift annual production capacity of 4,000 buses and coaches and 7,500 light trucks, totaling 11,500 vehicles per year.