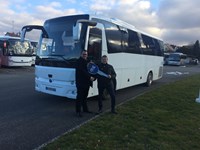 TEMSA, the leading Turkish Bus and Coach Brand, continues to grow its successes in export markets. In the first 4 months of 2017, TEMSA delivered 70 vehicles to French carriers.
The two factors that make TEMSA the leader in the bus and coach market; are the wide range of quality products that it has and the ability to produce fast solutions to customer needs. TEMSA continues to strengthen its position in export markets with this distinguishing feature. TEMSA vehicles continue to be the pride of Turkey in 65 countries as well as in France. In the first four months of 2017, TEMSA delivered 70 vehicles to French carriers.
The distinction of TEMSA School Bus
France Regional Sales Manager Cagdas Adiyeke stated that TEMSA vehicles continue to be the preferred for new investments of French transporters. "It was not easy to come to this process. The most important thing to consider when offering a new product is how well it can respond to needs. In this respect, as always, we reflected TEMSA's a distinctive feature; that is being a brand which listens to its customers' needs very closely. We have seen that the vehicles we produce for the school bus market make a difference both in the characteristics it has and in the direction of the formation of demand, thanks to the analysis and innovative work we have done in France. In January 2017 we had a fast entry to the French market with 22 vehicles we have delivered. By the end of April we reached 70 vehicles with deliveries we made in the following months."
TEMSA, a Brand providing profit for its business partners
Cagdas Adiyeke noted that TEMSA vehicles contribute to the earnings of business partners with fuel savings and cost effective maintenance costs in the operating process. "The TEMSA passion of our French customers is moving forward with the advantages offered by the operating process as well as the quality of the vehicle. Many of our customers are pleased to see TEMSA's awareness of the business process. We will continue to develop these features those are strong in the market and listen to our customers. On the other hand, the fact that we have been in the French market for 17 years and our sustainability is also a positive influence on our brand awareness. We provide a wide range of products those are in both school and tourism transportation. We anticipate that we will exceed our sales of 179 of 2016" he said.
About TEMSA
TEMSA, one of Turkey's leading automotive companies, manufactures and distributes buses and coaches under its own brand in domestic and international markets. TEMSA's manufacturing facility in Adana has a single-shift annual production capacity of 4,000 buses and coaches and 7,500 light trucks, totaling 11,500 vehicles per year.