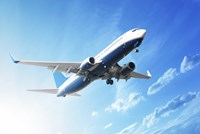 Today at the NBAA Exhibition, Thales – a leading provider of flight deck avionics and passenger connectivity solutions – announced the expansion of its global aviation connectivity offering with FlytLINK. This offer ensures that Thales has the most comprehensive suite of aviation connectivity solutions serving the entire ecosystem.
FlytLINK will provide dedicated satellite-based communications capabilities primarily aimed at connecting aircraft cockpit and crew operations. With FlytLINK, customers can now receive an optimized solution that connects the front of their aircraft without relying on ad-hoc network solutions.
The solution will deliver essential communications for enhanced safety features and critical operations ensuring that customers have the most reliable capabilities for their aircraft's safety-critical domain. It has been purpose-built with network security in mind to meet the unique challenges of the aviation community and it can be equipped on all aviation platforms, including commercial transport, business jets, rotorcraft, UAS and military applications.
FlytLINK, enabled by Iridium CertusSM, is expected to be the first of the product line offering available to aviation customers and it will operate using broadband services over the Iridium NEXT constellation of 66 satellites that cover 100% of the globe, including poles and oceans. Thales is currently targeting product availability in line with Iridium Certus' full service deployment schedule which is anticipated for completion in 2018.
"FlytLINK is a key part of Thales' expanding connectivity offering for the aviation community and FlytLINK, enabled by Iridium Certus, is the perfect starting point because of its truly global reliability.
"As we roll-out this new product offering, we look forward to helping our customers define new levels of safety and operational efficiency." Adam Marks, Managing Director, LINK SatCom, and VP, Strategy and Marketing, Thales USA.
The Iridium enabled FlytLINK solution provides highly reliable, mobile and essential voice, text and Internet communications. Its safety features include optional flight data streaming, Push-to-Talk voice, ACARS and other embedded safety services. Operationally, it enhances in-air reporting, service logging, flight crew scheduling, aircraft monitoring and other operational service needs. It also supports electronic flight bag pairing, real-time weather, active aircraft tracking, secure pilot and crew Wi-Fi access and enhanced calling.
The FlytLINK product offering will be available to customers with different service provider packages in the future.
About Thales
Thales is a global technology leader for the Aerospace, Transport, Defense and Security markets. With 62,000 employees in 56 countries, Thales reported sales of $15.5 billion in 2015. With over 22,000 engineers and researchers, Thales has a unique capability to design and deploy equipment, systems and services to meet the most complex security requirements. Thales' unique international footprint allows it to work closely with customers all over the world.