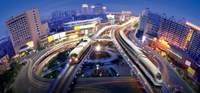 Reinforcing its strengths in the Thai transportation market, Thales has been selected by the Bangkok Expressway Metro Public Company Limited (BEM) and CH. Karnchang Public Company Limited (CK) to deliver the Automatic Fare Collection (AFC) system for the Bangkok metro's Blue Line Extension.
The Chaloem Ratchamongkhon MRT line, better known as the Blue Line, was the first of Bangkok's underground metro lines to open in 2004. Thales is the incumbent supplier of the automatic fare collection system for the existing Blue Line, which now comprises 18 stations. The extension will see an additional 19 stations that will support increased capacity and a seamless passenger experience as Bangkok seeks to alleviate traffic congestion in its metropolitan area and connect commuters travelling from outlying areas of the city.
The full extension of the Blue Line is expected to open by March 2020 with daily ridership expected to rise significantly by over 230,000 commuters.
Thanks to its TransCity™ ticketing solution, Thales is well-positioned to support this extension, while increasing current Automatic Fare Collection capacity in the Blue Line's existing stations.
In-line with the Group's mission of building its local industrial capacity and transferring technology, Thales in Thailand will expand its team of local engineers and programme management organisation to support this and future programmes. The team's mission will focus on training local industry to be able to build on the existing AFC technology and continue postdeployment support that will enable BEM to operate, maintain and enhance the system.
Thales is a world leader in ground transportation solutions with successful deliveries of numerous metro projects in Hong Kong, Japan, Mainland China, Malaysia and Singapore. In the area of ticketing, Thales has successfully delivered ticketing solutions for some of the world's largest metro systems, including in the cities of Cairo and New Delhi.
"Thales is committed to enhancing the skillsets and expertise of the Thai transportation industry, aligned with Thailand's goals to strengthen its local industrial capabilities. We want to accompany Thailand in its big ambition towards developing a robust urban rail transport network." Tommy Ayouty, Country Director, Thales in Thailand.
About Thales
Thales is a global technology leader for the Aerospace, Transport, Defence and Security markets. With 64,000 employees in 56 countries, Thales reported sales of €14.9 billion in 2016. With over 25,000 engineers and researchers, Thales has a unique capability to design and deploy equipment, systems and services to meet the most complex security requirements. Its exceptional international footprint allows it to work closely with its customers all over the world.
About Thales in Thailand
Thales has been present in Thailand since the early 1990s and the Group opened its representative office in Bangkok in 2005. In Thailand, Thales has significant programmes and achievements in the civil and defence sectors and works closely with key Thai partners across the markets of aerospace, defence, space and transportation.