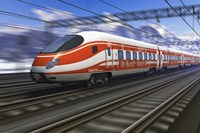 Following completion of the Gotthard tunnel, the AlpTransit Gotthard Ltd has awarded Thales the € 57 million (CHF 63 million) signalling contract for the Ceneri tunnel. The new tunnel is the final section of the transalpine rail corridor that will link Zurich and Milan in less than three hours journey time.
Located 25 km south of the Gotthard tunnel, the Ceneri Base Tunnel between Bellinzona and Lugano in Switzerland has a total length of 15.4 km. Like the Gotthard tunnel, it comprises two single-track tubes separated by a space of 40 meters.
Thales will again be providing its state-of-the-art ETCS Level 2 train control technology, and will have overall responsibility for project management and integration of train command and control systems. The tunnel is scheduled to open in 2020.
Thales signalling technology will reduce the journey time between Locarno and Lugano from today's 55 minutes to 22 minutes, with more than 300 trains travelling in both directions every day at speeds of up to 250 km/h.
The Ceneri tunnel is part of Switzerland's far-reaching railway modernisation programme. It is expected to be used by thousands of passengers and hundreds of freight trains every day.
About Thales
Thales is a global technology leader in the Aerospace, Transportation, Defence and Security markets. In 2015, the company generated revenues of €14 billion with 62,000 employees in 56 countries. With over 22,000 engineers and researchers, Thales has a unique capability to design and deploy equipment, systems and services to meet the most complex security requirements. Its unique international footprint allows it to work closely with its customers all over the world.