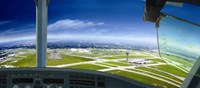 Juneyao Airlines, one of the fastest-growing regional airlines in China operating out of Shanghai in China has selected Thales's avionics suite for its new Airbus A320 Family fleet. With its name translating into "Auspicious Airlines" the carrier operates out of both Hongqiao and Pudong airports, thereby serving the whole of the Shanghai Metroplex.
The contract signed with Thales will equip an initial 17 Airbus single aisle aircraft with the Thales Flight Management System (FMS), the navigation solution of choice for Airbus aircraft in China1, alongside the THALES/ACSS T3CAS surveillance platform2, the preferred solution for all Airbus aircraft in the world. The new fleet will also feature the Low Range Radio Altimeter (LRRA) and Emergency Location Transmitters (ELT).
Juneyao has been flying T3CAS on their existing fleet and have enjoyed the benefits of a performance-based Terrain Awareness Warning System (TAWS). In addition, Juneyao is also equipped with Airbus ATSAAIRB (Enhanced Air Traffic Surveillance).
"The confidence Juneyao has placed in us is extremely important to our strategy here in China. With Thales employing over 1,000 employees in the country, 95% of whom are Chinese citizens, China remains one of our most important growing markets. Competition for the growing client base here is fierce and each new contract is very important. Over the course of 2014 and 15, our avionics products have been selected by various local airlines and we will strive to continue to ascertain our leadership position on this market."
Daniel Malka, Vice President and General Manager Thales Avionics Services Worldwide
About Thales
Thales is a global technology leader for the Aerospace, Transport, Defence and Security markets. With 61,000 employees in 56 countries, Thales reported sales of €13 billion in 2014. With over 20,000 engineers and researchers, Thales has a unique capability to design and deploy equipment, systems and services to meet the most complex security requirements. Its unique international footprint allows it to work closely with its customers all over the world.