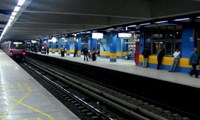 At a ceremony held on 10th June in the presence of Egypt's transportation minister His Excellency Hesham Arafat, Thales signed two new fare collection contracts covering 19 new stations on the Cairo metro. Both contracts are part of the Line 3 extension project: Phase 3 is the western branch of the line and includes 15 new stations, and Phase 4B is the eastern side of the line, with four stations. The two new contracts follow earlier awards in December 2015 to upgrade the fare collection systems on Lines 1 and 2 of the Cairo metro.
Thales will build on this experience to deploy its latest TransCity TM systems into the existing infrastructure: 70 automatic vending machines, 177 ticket office machines, 50 portable ticket control terminals as well as 460 new-generation automated access gates, which will speed throughput and provide smoother passenger flows. Thales has been contributing to the development of the Cairo metro for more than 30 years. These two new contracts, lasting more than 5 years (Phase 3) and more than 2 years (Phase 4B) respectively, underscorethe continuing confidence of Egypt's National Authority for Tunnels (NAT) in the Thales Group.
The Cairo metro is an efficient mass transit solution designed to significantly improve urban mobility in the Egyptian capital, contributing to sustainable development and helping to improve the quality of life. More than 4 million people will benefit from the Line 3 extension project. Thales has been present in Egypt for more than 40 years and employs approximately 500 people (including joint ventures) in the country, 30 of whom are working exclusively on fare collection projects for the Cairo metro.
About Thales
Thales is a global technology leader in the Aerospace, Transportation, Defence and Security markets. In 2016, the company generated revenues of €14.9 billion with 64,000 employees in 56 countries. With over 25,000 engineers and researchers, Thales has a unique capability to design and deploy equipment, systems and services to meet the most complex security requirements. Thales has an exceptional international footprint, with operations around the world working with customers and local partners.