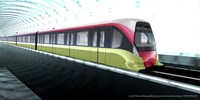 In its first transportation project in Vietnam, Thales has signed a contract to provide a complete telecommunications system for Line 3 of the Hanoi metro, the first of five lines planned for the Vietnamese capital. A French consortium including Alstom (leader), Colas Rail and Thales signed the contract, valued at 265 million euros, with Hanoi's Metropolitan Railway Management Board (MRB) on 17 January 2017.
Hanoi currently has 7.5 million inhabitants and its population is expected to grow to 8 million by 2020. With continuing urbanisation and a dramatic increase in road traffic (cars and motorcycle taxis), the city's metro project plays a crucial role in relieving congestion and improving road safety and public health. Under the urban transport master plan adopted by the city several years ago, five metro lines are due to be built by 2030.
Line 3 will run from the West of the city to the South. The 12.5 km line (8.5 km elevated and 4 km underground) will comprise 12 stations and is scheduled to enter service at the end of 2021.
Under the contract, consortium leader Alstom will supply rolling stock, signalling systems, power systems and depot infrastructure in partnership with Colas Rail.
Thales will provide all the train to track communication systems, as well as a line command & control centre for traffic management, energy distribution, video surveillance, passenger information and telephon services.
"Thales is delighted to be taking part in this major project, which will significantly improve daily mobility opportunities for Hanoi's citizens, reduce congestion and improve the city's environmental performance. To serve the urban transport market, Thales combines proven expertise in telecommunications and command & control systems with the capabilities of rolling stock manufacturers to provide operators or city authorities with the turnkey solutions they require to run environmentally responsible public transport systems." Massimo Marinzi, Thales Country Director for Vietnam.
In the Ground Transportation sector, the Group relies on its common expertise in advanced technologies such as cybersecurity, artificial intelligence, big data, and connectivity. Benefitting from Thales's worldwide experience and innovative telecommunications and command & control solutions, the city of Hanoi will have a complete, modern system to manage its first metro line.
About Thales
Thales is a global technology leader for the Aerospace, Transport, Defence and Security markets. With 62,000 employees in 56 countries, Thales reported sales of €14 billion in 2015. With over 22,000 engineers and researchers, Thales has a unique capability to design and deploy equipment, systems and services to meet the most complex security requirements. Its exceptional international footprint allows it to work closely with its customers all over the world.