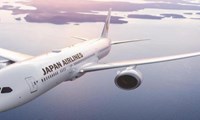 Thales and Japan Airlines welcome the entry into service of the Boeing 787-9 newly configured aircraft equipped with AVANT In-Flight Entertainment system. The new JAL Sky Suite 787-9 cabin on the airline's Tokyo Narita to Kuala Lumpur route debuted this summer.
Japan Airlines is a long-term, valued Thales customer who is the first Asian airline to choose AVANT on the Boeing 787 series. AVANT offers a state-of-the-art Android-based IFE solution with customizable passenger experience and an extensive selection of features and applications.
The Boeing 787-9 aircraft, equipped with AVANT, utilizes the latest Magic VI system which includes Audio and Video On Demand (AVOD), games and applications customized to JAL – On-Boarding Shopping, Meal Order and Sky Manga, eBook application. Magic VI offers in total 300 movies, videos and music programs for passengers to enjoy right at their fingertips. The newly configured aircraft has 52 business class, 35 premium economy class and 116 economy class seats.
Dominique Giannoni, CEO, Thales InFlyt Experience said "Japan Airlines and Thales have developed a close partnership based on mutual respect and trust for one another. With the advanced technology of our IFE systems onboard the newly configured JAL B787-9 Dreamliner passengers will enjoy an engaging and memorable travel experience."
Japan Airlines' decision to use AVANT on Boeing 787-9 linefit fleet testifies the utmost satisfaction the system brings to their passengers. The airline also operates Thales IFE systems on their Boeing 767, Boeing 777 and Boeing 787 aircraft, flying across domestic and international routes.
About Thales
Thales is a global technology leader for the Aerospace, Transport, Defense and Security markets. With 62,000 employees in 56 countries, Thales reported sales of $15.5 billion in 2015. With over 22,000 engineers and researchers, Thales has a unique capability to design and deploy equipment, systems and services to meet the most complex security requirements. Thales' unique international footprint allows it to work closely with customers all over the world.