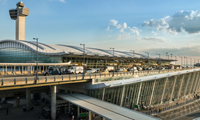 John F. Kennedy International Airport (JFK) Terminal 4 is planning to modernise their Security Operations Center (SOC) with Thales – a world leader in airport security, providing smart airport solutions. This three-year contract is part of an extensive security modernization project at JFK Terminal 4 to enhance the situational awareness of its security operations.
Thales will deliver an Airport Operation Control Center (AOCC) platform that provides processes and procedures to make management of security and operations of the airport terminal smoother and more efficient. Thales will also provide a command and control center to enhance situational awareness of terminal activities while giving the operators complete functionality of all subsystems and enabling the proactive response of security personnel. Thales will lead the system integration in cooperation with key airport stakeholders, and provide airport security engineering services for the next three years.
In 2015, JFK Terminal 4 - the first and only privately operated air terminal in North America, operated by JFKIAT, LLC. - completed a multiyear, multibillion dollar expansion and renovation of its physical terminal to ensure it had the infrastructure in place to match its growth expectations. The terminal is the largest and busiest at JFK, processing more than 20.6 million travelers annually.
The contract with Thales ensures that the newly expanded terminal maintains a strong security apparatus by acquiring the latest in state-of-the-art security technologies. These technologies will help the terminal keep up with passenger traffic growth and make Terminal 4 the desired experience for travelers arriving to or departing from the New York metropolitan area.
JFK is consistently one of the top five busiest airports in the United States and ranks among the top 15 airports worldwide.
JFK Terminal 4 joins the long list of other world-class airports secured by Thales including Bahrain, Doha, Dubai, Durban, Lyon, Madrid, Muscat, Pisa, Salalah, and Singapore.
"Airport security is key to all aspects of transportation, affecting tourism, airlines, and the local economy. The security solution being offered to JFK is a proven solution utilized at other leading airports around the globe, including those that top the list for passenger traffic." David Scruggs, Thales VP, Business Development for the United States.
"The ambition of Thales is to provide global security solutions to secure and support customer business continuity and efficiency. As a key international player in airport security with world-class references, Thales is a trusted partner to help airport operators to set smart airport solutions meeting safety and security requirements." Marc Darmon, Executive Vice President of Thales, Secure Communications and Information System.
About JFKIAT
JFKIAT, LLC is the operator of Terminal 4 at John F. Kennedy International Airport, one of the most active air terminals in the New York area, serving 33 international and domestic airlines with an annual passenger volume of more than 20.6 million travelers in 2016. Terminal 4's expansive shopping mall offers an unparalleled shopping experience for travelers with a wide range of retail options from chic, upscale boutiques, to convenience stores, to electronics, accessories and gifts. Terminal 4 was the first air terminal in North America operated by a private management company. JFKIAT, LLC is owned by Schiphol USA Inc., a U.S. affiliate of Schiphol Group.
About Thales
Thales is a global technology leader for the Aerospace, Transport, Defense and Security markets. With 62,000 employees in 56 countries, Thales reported sales of $15.5 billion in 2015. With over 22,000 engineers and researchers, Thales has a unique capability to design and deploy equipment, systems and services to meet the most complex security requirements. Thales' unique international footprint allows it to work closely with customers all over the world.