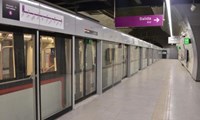 With more than 7 million inhabitants and an ever growing population, Santiago de Chile has the ambition to improve urban mobility in ever safer and more efficient conditions and with low operating costs. For its new metro lines (lines 3 and 6), the city will rely on the latest driverless train control system: the Seltrac™ CBTC (Communication Based Train Control) solution from Thales. This signalling system is a critical component of the solutions delivered by the consortium comprised of Spanish railcar maker CAF and Thales.
With the implementation of the new line 6 system, which recently completed its final tests successfully, the new line brings a new reality to urban mobility in Chile. Launched on November 2nd, it will have the capacity to carry more than 20,000 passengers per hour in each direction.
Together, lines 6 and 3 will have a combined length of 37 km, with 28 stations and 37 trains. Santiago de Chile currently has the most extensive network in South America.
The Seltrac™ CBTC system enables trains to operate in complete driverless mode and ensures safety and efficiency across the entire route, with a 90-second interval between trains, lower long-term operating costs and considerable savings in traction power due to innovative kinetic energy recovery and braking systems.
Ruben Lazo, Vice President for Thales in Latin America, "As a trusted partner for metro lines 3 and 6, Thales is proud to support the development of the city of Santiago, contributing to benefit more than seven million people. With this contract, the Group reaffirms its commitment to help Chile to deploy cuttingedge technology, as we strive to excel in serving all our customers."
About Thales
Thales is a global technology leader for the Aerospace, Transport, Defence and Security markets. With 64,000 employees in 56 countries, Thales reported sales of €14.9 billion in 2016. With over 25,000 engineers and researchers, Thales has a unique capability to design and deploy equipment, systems and services to meet the most complex security requirements. Its exceptional international footprint allows it to work closely with its customers all over the world.
About Thales in Chile
Thales has been present in Chile for 50 years and has participated in many projects for the Chilean public sector, armed forces and private companies, positioning itself as strategic provider in the markets of Transportation, Defence, Aeronautics and Security. Thales is a leader in the urban transportation market in Chile and provides the most advanced signalling systems (CBTC) and centralised command for lines 1, 3, 5 and 6 of the Santiago Metro. In the aerospace and defence markets, Thales provides radars, air traffic control and naval systems. In commercial aviation, Thales provides avionics equipment, in-flight entertainment (IFE) systems and associated maintenance solutions. Thales also delivered 25 parabolic antennas for the ALMA astronomic observatory.