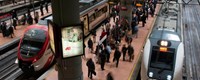 Accepts any contactless media including EMV contactless bank cards
A modular, robust and compact validator.
Reliable design as a result of vast experience in the field.
At the 2016 edition of the Transports Publics exhibition in Paris, Thales launches its new generation on-board validator for an improved travel experience.
As a key player in the digitalization of ticketing solutions, Thales continues the development of its TRANSCITYTM offer. This innovative and complete ticketing solution, based on web oriented technology, simplifies both passengers' journeys and operators' day-to-day operations.
Thales takes the opportunity to present its latest on-board validator at the Transport Publics exhibition in Paris. The BV600 multiplies the methods of payment available on buses or trams: travelers will be able to either swipe their cellphones or contactless bank cards to travel; or continue to use their traditional travel cards. Soon, new formats will also be available such as barcodes or Bluetooth (BLE).
Small and compact, the BV600 is highly reliable and resistant. It can be deployed on various modes of transport: buses, trams, taxis... and ensures interoperability across all modes of transport for a seamless travel.
As a world leader in multimodal, multi-operator, public transport ticketing systems, Thales's solutions are fully proven around the world. Installed in over 100 cities around the globe, Thales processes over €15 billion worth in transactions every year.

About Thales Transportation
Thales is a global technology leader for the Aerospace, Transport, Defence and Security markets. With 62,000 employees in 56 countries, Thales reported sales of €14 billion in 2015. With over 22,000 engineers and researchers, Thales has a unique capability to design and deploy equipment, systems and services to meet the most complex security requirements. Its exceptional international footprint allows it to work closely with its customers all over the world.