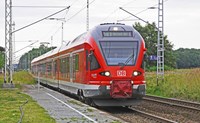 Thales (Euronext Paris: HO) announces today the closing of the acquisition of Danish company Cubris, a leader in Driver Advisory Systems (DAS) for Main Line Rail customers. DAS allows real-time and fully secured exchange of information between the railway system and the train driver in order to optimize the driving of the train and reduce CO2 emissions. On this basis, Cubris also offers a key technology for the future autonomous trains.
Cubris is perfectly suited to support railways operators' big ambitions to address the growing needs of an increasingly train centric and automation oriented demand in railway signalling. The company has developed and delivered a well-recognised Driver Advisory System, called GreenSpeed™, already in service in Denmark (DSB and Lokaltog), in the UK (South West Trains) and in Sweden (Transdev) and being implemented by Transdev in Germany and by Finnish Railway (VR). Headquartered in Copenhagen, Denmark, the company employs 15 people. The impact of this acquisition on Thales's 2018 EBIT will be non-material.
"With the acquisition of Cubris we are paving the way for improved rail efficiency and autonomous train. Combined with our established expertise in other key digital assets, Cubris' talents and technologies represent a tremendous accelerator of our digital strategy for the benefit of our rail customers." said Millar Crawford, Executive Vice-President for Ground Transportation Systems at Thales.
"We are proud to be now part of the powerful group of Thales and convinced we can bring our solution and the value we can propose to our customers to a next level, profiting from the strong engineering capabilities and cross functional synergies from e.g. the digital aviation cockpit." said Sune Edinger Gram, CEO of Cubris.
Thanks to this acquisition, Thales is strengthening further its offering and positioning within the Rail Traffic Management segment, building upon the recent market successes and positioning strongly in one of the key technologies driving the performance optimisation of its customers.

Since 2014, Thales has invested almost 7 billion euros in digital technologies, including the projected acquisition of Gemalto (whose closing is expected in H2 2018). These key technologies play a crucial role in our markets. They enable airlines, satellite operators, air traffic control organisations, urban and mainline rail operators, the armed forces and security services responsible for protecting urban infrastructure and energy supplies to make the right decisions in real time.

The explosion of new digital technologies and the growing synergy between them create a huge amount of momentum not only to develop new products and solutions for today, but to invent those that will be needed in the data-driven, autonomous, immersive world of tomorrow.
About Thales
The people we all rely on to make the world go round – they rely on Thales. In a world that is increasingly fast moving, unpredictable – and full of opportunities, they come to us with big ambitions: to make life better, to keep us safer. Combining a unique diversity of expertise, talents and cultures, our architects design and deliver extraordinary high technology solutions. Solutions that make tomorrow possible, today. From the bottom of the oceans to the depths of space and cyberspace, we help our customers think smarter and act faster - mastering ever greater complexity and every decisive moment along the way. Whatever it takes.