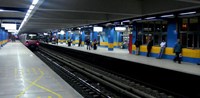 More than 30 years after its first contract for the Greater Cairo Metro, Thales has signed two contracts:
Upgrade of the fare collection system for Lines 1 and 2 of the Egyptian capital's rapid transit network
A complete Integrated Communications & Supervision system for the extension Al Thawra on the line 3 (Phase 3).
Transcity Ticketing Solution
This is Thales's second deployment of the TransCity™ solution this year, following the contract awarded in South Africa in September. In Egypt, Thales will deploy its TransCity™ fare collection solution on Lines 1 and 2 of the Cairo Metro, replacing the equipment installed in the 1980s, when these first two lines were built. Under the contract, Thales will supply 850 access gates, 100 vending terminals for ticket outlets and 75 portable ticket control terminals, as well as implementing new system architecture. In addition, the TransCity™ central system will supervise all data generated across the existing network and accommodate future network evolutions and extensions.
The 18-month project will be conducted on one of the densest public transport networks in the world with no disruption to passenger flows. Once completed, a combination of magnetic stripe and contactless fare media technology will make it easier for passengers to access the metro system. The new fare collection equipment installed at stations on Lines 1 and 2 will improve reliability while reducing maintenance costs.
The TransCity™ solution, which uses Web 2.0 technologies secured by Thales, will also offer the best guarantees for the management of Cairo's fare collection system as it evolves.
Integrated communications & supervision for the extension of the Line 3 (Phase 3)
In consortium with Alstom, Thales has signed a contract for the implementation of a full Integrated Communications & Supervision Systems, relevant to 15 new stations and an additional depot, from Attaba to Rod El Farag and Cairo University, for a length of more than 17 km. This extension is one of the Egyptian authorities' strategic investments in Cairo to increase the level of public transport services and will result in 76 months of activity.
With this contract, Thales has consolidated its position with the customer as system integrator, including responsibilities for more than 10 subsystems: SCADA, Radio, CCTV, Multiservice Network, Telephony, Fire Detection, Public Announcement, Passenger Information, etc. The new implementation will be installed at the line 3 operational control centre, for real time management and control of the whole telecommunications, ticketing and electro-mechanical systems of the metro line.
After the contracts signed in February for fare collection and telecommunications solutions (line 3 phase 4A), these successes are a further endorsement of the quality of Thales's solutions by Egypt's National Authority for Tunnels and by the Egyptian Metro Company.
With operations in five continents, Thales is a global leader in fare collection and integrated telecommunications solutions. Every year, Thales fare collection systems handle €15 billion worth of ticket payments in over 100 cities around the world. Thales provides also supervision to over 80 metro lines in 46 cities around the world.
About Thales
Thales is a global technology leader for the Aerospace, Transport, Defence and Security markets. With 61,000 employees in 56 countries, Thales reported sales of €13 billion in 2014. With over 20,000 engineers and researchers, Thales has a unique capability to design and deploy equipment, systems and services to meet the most complex security requirements. Its unique international footprint allows it to work closely with its customers all over the world.