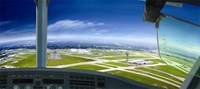 During the ATC Global exhibition in Dubai, Thales is pleased to announce that it has been awarded a contract to supply one Instrument landing system with distance measuring equipment (ILS/DME) and all related services for Najaf Al-Ashraf International Airport in Najaf.
The city of Najaf, situated in southern Iraq is the site of the Imam Ali Shrine and is an important religious destination, playing host to millions of pilgrims each year. Najaf Al-Ashraf airport has therefore been experiencing significant traffic growth in recent years, with many international airlines like Gulf Air and Turkish Airlines running regular services.
The contract signed between Thales and Najaf Al-Ashraf Airport Authority is part of the country's continuing efforts to modernize current navigation and surveillance capabilities, ensuring a significant improvement of safety and efficiency.
Thales has been a partner to Al-Najaf Airport Authority for more than eight years. With a base of over 7,000 units deployed worldwide, Thales is the world leader in the supply of Navaids.
About Thales
Thales is a global technology leader for the Aerospace, Transport, Defence and Security markets. With 61,000 employees in 56 countries, Thales reported sales of €13 billion in 2014. With over 20,000 engineers and researchers, Thales has a unique capability to design and deploy equipment, systems and services to meet the most complex security requirements. Its unique international footprint allows it to work closely with its customers all over the world.