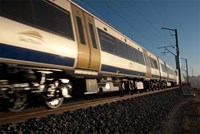 Thales has signed a second contract with the Bombela consortium to equip the Gautrain transport network, between Johannesburg and Pretoria, with the latest fare collection solution.
The Bombela consortium, which operates the concession for the transport network, has through an open tender process chosen Thales to upgrade the fare collection system, installed in 2010 by the Group in time for the FIFA World Cup.
The TransCity solution will allow passengers to benefit from a wider range of services and ticketing options. In addition to the current Gold Card, travellers will be able to access the system using contactless smartcards issued by either South African or foreign banks. TransCity, the latest evolution in Thales's proven fare collection systems, brings users the benefits of web-oriented technologies, offering additional services to improve the passenger experience while simplifying day-to-day management tasks for operators.
The upgrade covers the entire Gautrain network including 10 express train stations, 9 station car parks and 125 buses, as well as the update of automatic ticket vending and top up machines, access gates and a new back office. The modernisation project will be rolled out progressively with no service disruptions and is due to be operational in 2017.
With operations on five continents, Thales is a global leader in fare collection solutions and services, particularly for public transport operators. Every year, Thales's systems handle ticketing transactions worth 15 billion euros, installed in more than 100 cities around the world.
KEY POINTS
Thales's 2nd fare collection contract signed by Thales for the Gautrain network
1st ticketing export contract allowing payment with contactless EMV cards
New multi-channel options for passengers: transport card, credit card…
About Thales
Thales is a global technology leader for the Aerospace, Transport, Defence and Security markets. With 61,000 employees in 56 countries, Thales reported sales of €13 billion in 2014. With over 20,000 engineers and researchers, Thales has a unique capability to design and deploy equipment, systems and services to meet the most complex security requirements. Its unique international footprint allows it to work closely with its customers all over the world.