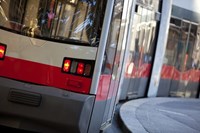 Modernisation of the Irun station will enable connection to the high-speed and international gauge network between France and Spain.
Irun is a key station in the trans-European corridors.
It is one of the most complex project on the international network with 3 options of gauge possible
Thales España has been awarded the contract for the modernisation of the signalling and traffic control systems for the Irun station in Gipuzkoa. It will enable connection with the international gauge high-speed network between France and Spain. It is one of the largest and most complex projects on the international network and can be critical for Spain's connection with the rest of Europe.
The €13,6 million contract includes modernisation of the signalling facilities for railway traffic control and support to the first level maintenance carried out by Adif, due to installation of the third rail necessary for the implementation of international gauge and integration with the Astigarraga-Irún section of the new railway network of the Basque Country. Once the works completed, trains using the Irún Station will have the option of operating on Iberian gauge, international gauge or mixed gauge.
The execution timeframe is eighteen months and the scope of the contract also includes support to Adif for maintenance of the facilities for 20 years.
For this project, Thales will deploy its most advanced signalling and railway traffic control systems by installing a cutting-edge electronic interlocking and an axle counting system for reliable train detection. The project will optimise the number of field components and the wiring, which will require less maintenance and make the entire system more sustainable.
The works will be carried out without interruption to train traffic to minimize the impact of the works on movement of passengers and goods.
About Thales
Thales is a global technology leader for the Aerospace, Transport, Defence and Security markets. With 62,000 employees in 56 countries, Thales reported sales of €14 billion in 2015. With over 22,000 engineers and researchers, Thales has a unique capability to design and deploy equipment, systems and services to meet the most complex security requirements. Its exceptional international footprint allows it to work closely with its customers all over the world.