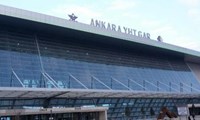 Turkey's Başkentray project involves the renovation of the signalling systems for conventional, high-speed and suburban lines along a 36-kilometre section stretching from Sincan to Kayaş through the city of Ankara.
Thales has secured the new contract from the Gülermak-Kolin joint venture for Turkish State Railways (TCDD).
This new project comes in addition to the modernisation of the highspeed line between Ankara and Istanbul, which was also performed by Thales, and includes the most advanced systems, namely a Centralised Traffic Control System, electronic interlocking systems, ETCS1 Level 1 and 2 automatic train protection systems, trackside signalling equipment for two-way traffic, and interfaces between high-speed lines, conventional lines and level crossings.
This assignment will help improve passenger mobility and safety in Ankara by modernising the commuter train system, renovating the signalling systems in the capital and extending Turkey's high-speed rail network.
Thales has installed its signalling and telecommunications systems along more than 400 kilometres of the Ankara-Istanbul line and was the first supplier of ETCS systems to Turkey.
Since 2009, Thales has been one of the leading players in the development of high-speed rail transport in Turkey. With this new contract, Thales strengthens its presence in Turkey and its commitment to the national rail market. The Thales subsidiary in Turkey was set up in 2009 and employs more than 80 local signalling experts charged with implementing all the company's programmes in the country.
About Thales
Thales is a global technology leader for the Aerospace, Transport, Defense and Security markets. With 62,000 employees in 56 countries, Thales reported sales of $15.5 billion in 2015. With over 22,000 engineers and researchers, Thales has a unique capability to design and deploy equipment, systems and services to meet the most complex security requirements. Thales' unique international footprint allows it to work closely with customers all over the world.