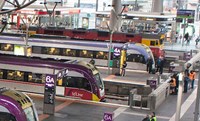 The Australasian Railway Association is pleased to learn of the commitment by the Federal Government to build Sydney's second Airport at Badgerys Creek with a high speed rail line linking to the CBD.
"The importance of including a rail line from the start of the construction of Badgerys Creek Airport is a given. The rail industry is thrilled to hear a fast rail line will form part of this major project; this vital link will contribute to the future viability of the entire project, said Danny Broad, Chief Executive Officer of the Australasian Railway Association.
"Planning of a project of such significance needs rail options to support not only the Airport, but Sydney's surrounding growth areas.
"It's pleasing to see the Federal Government's recent recognition of rail projects as providing solutions; rail is the most efficient, environmentally friendly, safe and cost effective mode of land transport. It is rail that can help Australian governments meet the challenges of the future.
"The Australasian Railway Association is supportive of the construction of a second airport for Sydney to not only cater for its population, which is expected to grow by over 6 million by 2031, but also for the millions of tourists visiting the city every year," said Mr Broad.
About The Australasian Railway Association
We are the peak body for the rail industry throughout Australia and New Zealand. We represent an array of rail organisations: private and public, passenger and freight operators, track owners and managers, manufacturers of rolling stock, construction companies and all other organisations supplying and contributing to the Australasian rail sector.
We provide a coordinated and unified voice on relevant issues of national importance. The ARA engages political leaders at both the state and federal level in forward-looking discussions around industry potential.
We bring about key policy reform to effectively enhance Australia's productivity, economic and social prosperity, as well as its international competiveness.
The ARA creates an avenue for industry to connect, knowledge-share and work together to achieve greater results for rail. As Australasia's leading voice for rail, we facilitate, coordinate, promote and communicate on behalf of the industry. We work to create an environment for the rail industry to prosper; we want to ensure a better rail future for all.
Our Vision
A world-class rail industry in Australia and New Zealand that contributes to a liveable and sustainable society that benefits all.