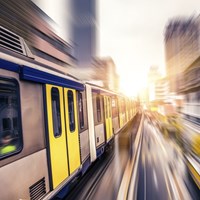 The NSW Government's announcement that it will make a record-breaking investment in rail infrastructure over the forward estimates is welcomed by the Australasian Railway Association (ARA). The 2016-17 NSW Budget fully funds the Sydney Metro City and Southwest, expected to cost $11.5 to $12.5 billion. The budget also allocates much-needed funding to light rail, passenger rolling stock and maintenance works.
"The Premier of New South Wales, Mike Baird, is right to refer to the Sydney Metro Rail project as transformational," said ARA CEO, Danny Broad.
It is the largest public transport project in Australia, creating jobs, opportunities for businesses, urban and community renewal, with the capacity to operate 30 trains an hour through the CBD in each direction.
The capacity across the entire Sydney railway system is expected to increase from 120 to around 200 trains in peak time. This equates to an extra 100,000 passengers per hour in peak time.
Stage 1 of the project – Sydney Metro Northwest – a 36km track from Rouse Hill to Chatswood is currently under construction with services to commence in 2019. Stage 2 – Sydney Metro City and Southwest – a 30km track from Chatswood, through the CBD, to Bankstown, is expected to open in 2024.
The ARA supports extending Stage 2 from Bankstown all the way to Liverpool – an economic game-changer for the Liverpool region.
On completion, this project will see a new, modern, fully-automated, stand-alone railway line of 62km in length that will ease public transport bottlenecks and road congestion for Greater Sydney.
It is also pleasing to see $1 billion over four years set aside in the budget for new suburban passenger rolling stock. With patronage on the rise, Greater Sydney passengers are set to be the beneficiaries of this investment.
The Baird Government's commitment to Light Rail is also welcome. $142 million in 2016-2017 for Newcastle Light Rail and $64 million in 2016-2017 to progress planning and development works for Parramatta Light Rail are both welcome investments in important and much-needed passenger infrastructure projects.
This is a pleasing budget for the passenger and light rail sectors, delivering significant investment in both sectors, creating jobs and flow-on benefits for many years to come. The Federal Government should take notice.
Already this year state governments have announced multi-billion dollar rail infrastructure spending. According to the State of Australian Cities report (2014-15), 80 percent of Australia's gross domestic product (GDP) is attributed to cities with a population of 100,000 or more while 64 per cent of GDP is produced in a city with a population over 1 million.
"The impact of our cities on the nation's productivity clearly illustrates why the Federal Government should support State Governments by also investing in passenger and freight rail," said Danny Broad.
About The Australasian Railway Association (ARA)
The Australasian Railway Association (ARA) is the peak body representing all passenger, freight, track operators and the wider rail supply industry in Australia, New Zealand and Indonesia.
Our fundamental purpose is to create an environment that will permit the Australasian rail industry to prosper. When issues arise that affect the whole industry, the ARA takes the lead facilitating an industry response.
The ARA is actively involved in the development of rail policy to ensure the industry's views are represented.
As well as shaping policy in the areas of passenger, freight, rail safety regulatory reform, the environment, technology and research, the ARA is also involved in programs aimed at improving the productivity, capacity and overall safety of the Australasian rail industry.