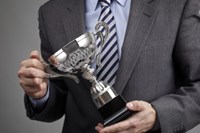 Individuals and organisations from across the Australasian rail industry were awarded for their outstanding achievements and innovations in rail at last night's Australasian Rail Industry Awards Gala Dinner.
Over 400 representatives from various sectors of the rail industry attended the sold out dinner to acknowledge the contributions of the twelve category winners.
The award categories and winners are as follows:
Career Achievement Award - Ben Lombardo, Speno Rail Maintenance
Customer Service Award - Metro Trains Melbourne
Employee Engagement Award - NSW TrainLink
Frank Franklyn Young Rail Specialist Award (RTAA) - James Donovan, Metro Trains Melbourne
Freight Rail Excellence Award - KiwiRail
Innovation and Technology Award - Sydney Trains
Permanent Way Institution Young Achiever Award (PWI) - Rebecca Coffey, Lycopodium
Safety Award - Australian Rail Track Corporation
Systems Engineering Award (IRSE) - Zdenka Wright, Metro Trains Melbourne
TrackSAFE Award - NSW TrainLink
Workforce Diversity Award - Brookfield Rail
Young Rail Professional Award (RTSA) - Gordon Baulch, Metro Trains Melbourne
Australasian Railway Association (ARA) Chief Executive Officer, Danny Broad congratulated all of the winners for their outstanding achievements and contributions to the rail industry.
"It was exceptional to see so many talented individuals and committed companies within the rail sector awarded for their excellence, passion and dedication to the rail industry," said Danny Broad, CEO, ARA.
"Included amongst the twelve award recipients was Brookfield Rail, awarded for the Workforce Diversity Award for their significant impact on enhancing diversity in its workforce across the past decade, including their achievements in addressing workforce gender imbalance and their approach to gender pay parity to create a greater workplace for all rail workers.
"The final award for the evening, the Career Achievement Award recognised Ben Lombardo for his contribution as a leading pioneer and innovator in the Australian Rail Industry since the early 1980's, when he took over the leadership of the Speno business in Australia, driving key value add technology development, innovation and the introduction of specialised maintenance technologies into the Australian rail maintenance industry," concluded Danny Broad.
Proceeds from the Australasian Rail Industry Awards will go towards the TrackSAFE Foundation, a registered harm prevention charity that endeavours to reduce near collision, injuries and fatalities on the rail network resulting from suicide and reckless behaviour.
About The Australasian Railway Association (ARA)
The Australasian Railway Association (ARA) is the peak body representing all passenger, freight, track operators and the wider rail supply industry in Australia, New Zealand and Indonesia.
Our fundamental purpose is to create an environment that will permit the Australasian rail industry to prosper. When issues arise that affect the whole industry, the ARA takes the lead facilitating an industry response.
The ARA is actively involved in the development of rail policy to ensure the industry's views are represented.
As well as shaping policy in the areas of passenger, freight, rail safety regulatory reform, the environment, technology and research, the ARA is also involved in programs aimed at improving the productivity, capacity and overall safety of the Australasian rail industry.