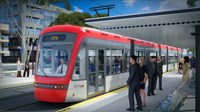 With the first sod recently turned on Stage 1 of Canberra's Light Rail, the Australasian Railway Association (ARA) takes the opportunity to remind all Canberrans that an integrated approach to transport is the most sensible way to guarantee an efficient, affordable and environmentally sustainable transport network for Australia's capital city.
"Canberra currently has one of the lowest rates of public transport usage in Australia, however with some smart planning, Canberra could have a world-class transport system that cleverly integrates light rail with buses, bike paths and carparks," said ARA Chief Executive Officer, Danny Broad.
"This kind of modern solution to urban transport challenges is already being embraced by cities around the world.
"The transport solutions for a city of 300,000 people are vastly different to those needed for Canberra's projected 2035 population of 550,000. Buses alone are not the solution, soon enough they would simply result in congested roads.
"Australia is experiencing a light rail revolution, with projects in seven States and Territories at varying stages of planning, construction or expansion.
"Light rail offers Canberra a compelling public transport value proposition, which consists of a medium capacity, road-based public transport solution that is delivered at an affordable price point, realising a range of economic, social and environmental benefits.
"The Capital Metro Business Case has forecast the project will generate around $1 billion in benefits for the Canberra community over its first 30 years of operation.
"To better contextualise this figure, over the past ten years, the ACT Government has invested more than $1 billion on road infrastructure. Over the next four years, a total of $2.5 billion has been budgeted by the ACT Government for infrastructure development with Capital Metro's $698 million project representing less than one third of the Territory's total infrastructure investment.
"It is clear governments can no longer build their way out of road congestion by increasing road capacity even where suitable corridors exist.
"The induced demand for transport means new road capacity is quickly used and roads rapidly become congested. This is why cities around the globe are investing in alternative forms of mass transport.
"Light Rail represents a way to break this downward cycle of spending on more and bigger roads. Reallocating existing road space to light rail will carry more people per lane, per hour than private cars or the existing bus system can do.
"The debate over light rail versus bus is over. Canberrans need a light rail system integrated with a bus network. A long-term integrated transport approach is required for our growing city," said Danny Broad.
About The Australasian Railway Association (ARA)
The Australasian Railway Association (ARA) is the peak body representing all passenger, freight, track operators and the wider rail supply industry in Australia, New Zealand and Indonesia.
Our fundamental purpose is to create an environment that will permit the Australasian rail industry to prosper. When issues arise that affect the whole industry, the ARA takes the lead facilitating an industry response.
The ARA is actively involved in the development of rail policy to ensure the industry's views are represented.
As well as shaping policy in the areas of passenger, freight, rail safety regulatory reform, the environment, technology and research, the ARA is also involved in programs aimed at improving the productivity, capacity and overall safety of the Australasian rail industry.